TTC Diecast have commissioned four further West Midland Leyland Fleetline models in liveries not available on the 20 previously announced standard issue models. These models will be exclusive to TTC Diecast.

The first model has been commissioned by popular demand and has been added to compliment the routes already offered by Rapido themselves.



65379 Leyland Fleetline, West Midlands PTE (Blue/Cream) 6537 / SDA 537S - Route 9 QUINTON via HAGLEY ROAD - 100 Certified Pieces

The other three models all carry a special silver & blue livery that was used to mark the Queens Silver Jubilee in 1977.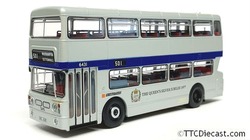 6431501 Leyland Fleetline, West Midlands PTE, (Silver Jubilee 1977) 6431 / NOC 431R - Route 501 WOLVERHAMPTON VIA TETTENHALL




64329 Leyland Fleetline, West Midlands PTE, (Silver Jubilee 1977) 6432 / NOC 432R - Route 9 CITY CENTRE VIA HAGLEY ROAD




643314 Leyland Fleetline, West Midlands PTE, (Silver Jubilee 1977) 6433 / NOC 433R - Route 14 CITY VIA ALUM ROCK

The above 3 silver models will be made and sold individually, or as a set of 3 (individually packed) with a small discount. All are limited to just 168 Pieces of each.
All four models feature working front, rear ,interior & destination lights (external power supply required). All have the standard retail price of £54.99 with the 3 Silver ones if bought together coming in at £159.99.

Because of the exclusivity and low numbers of these models, TTC customers will be limited to purchase just 1 piece of each of all 4 models. (IE maximum of 4 models in total if one of each is required)
TTC Diecast are also offering an interest free payment plan for 1 to 10 of the Rapido Fleetline which allows the payments to be spread over four equal payments.

To place pre-orders or for more on the payment plan, please visit the TTCDiecast.com site.

TTC Diecast have also given an update on their Resin Specialist Mancunian Prototypes, following the delays caused by Covid, these are on their way back to Hong Kong for final tweaking before manufacturing commences.
Both version which are each limited to 150 pieces each have now sold out on pre-order. A reserve waiting list has been opened which will re-allocate any stock where the original pre-orders are cancelled. The models are expected to be priced around £125.00 each.

More details on the TTC Diecast site.