The following press release has been issued by Northcord Models.
Please note: Northcord has revised the model number from that originally announced IEB0S 0005 to IEBUS 0007, the former number had already been used for an earlier model release.



NORTHCORD MODEL COMPANY - PRESS RELEASE
ADL Enviro400H MMC
iebus 0007 Dublin Bus

Northcord Model Company is pleased to announce the release of iebus 0007, the fifth release of the 10.3 metre, 2-door casting of this distinctive, modern, double-decker in the United Kingdom and Ireland.

The fifth livery to be carried on the brand-new Alexander Dennis Enviro400H MMC model, is Dublin Bus, produced in yellow and green livery.

iebus 0007 represents fleet number AH1 (191-D-44403) that has 10.3 metre, dual-door bodywork and was new to Dublin Bus in 2019.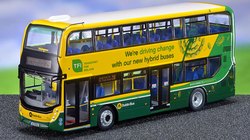 After a 2 year discussion, in 2019, Dublin Bus received 9 trial buses, 3 electric battery assisted Wrights, 3 Volvo Wright hybrids, and 3 Alexander Dennis Enviro400H MMCs (AH1-3). All 9 buses are in an attractive yellow and green version of the Dublin Bus livery and feature flowers and leaf patterns on the livery.
Dublin Bus Conyngham Road depot operates the ADL hybrids on busy west Dublin route 25/25A/25B and the model is featured on its route 25B, heading to Adamstown Station. Route 25B runs every 10 minutes and is complimented by ADL Enviro500s operated by sister depot Broadstone to boost passenger capacity. The route starts in the affluent Merrion Square of D2, and travels along the River Liffey 'Quays', Heuston Rail Station, Chapolizod bypass, and into Adamstown where its terminus is located at another railway station, 'Adamstown Station'. AH1 to 3 are the shortest double deckers operating with Dublin Bus and are, body wise, identical to London's but with the difference being that the wheelchair ramp is at the front door.
The Alexander Dennis Enviro400H MMC iebus 0007 is a one-piece casting whose clean lines accentuate the square-cornered, patented quick-release windows of the real bus and the livery application on which all logos and lettering are clearly legible. Another main feature on the iebus 0007 model is its individual tree protector at the front. The front dome on the model is significant, with curved windscreens on both upper deck and lower deck.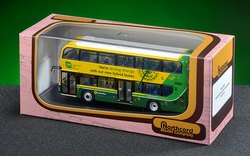 Northcord Model Company is also creating new design standards within the interior of both saloons. These features, inside the compartments, will represent the real, outstanding layout of the Enviro400H MMC, such as the extensive portrayal of handrails on upper deck and lower deck, etc. Further additional detail carried by the model include the special sunlight protection shade on the top of the front upper windscreen.
The brand new Enviro400H MMC bus models will be distributed by John Ayrey Die-Casts Limited (UK), Porte Publishing Company (Japan), 80M Bus Model Shop and Concorde Hobby Shop (HK) respectively. The IEBUS0007 model is limited to 1200 pieces worldwide.
Northcord Model Company (NMC)------The World's Miniature Bus Co.