1T1/1 MARSHALL REBUILD FROM THE MODEL BUS COMPANY - KIT NO. 4

Review by Alan Purssey
18 months ago Graham Orchard of the M.B.C. released two models under his own brand name.


These two models were based on the 1929 AEC Regal 662 chassis. The first based on the 30-seat single deck bus with a door less rear entrance built by General in 1929 T31 is an example preserved at Cobham Bus Museum.

A number of these vehicles were rebuilt with front entrances; from May 1933 to March 1935 this was the subject of the second model.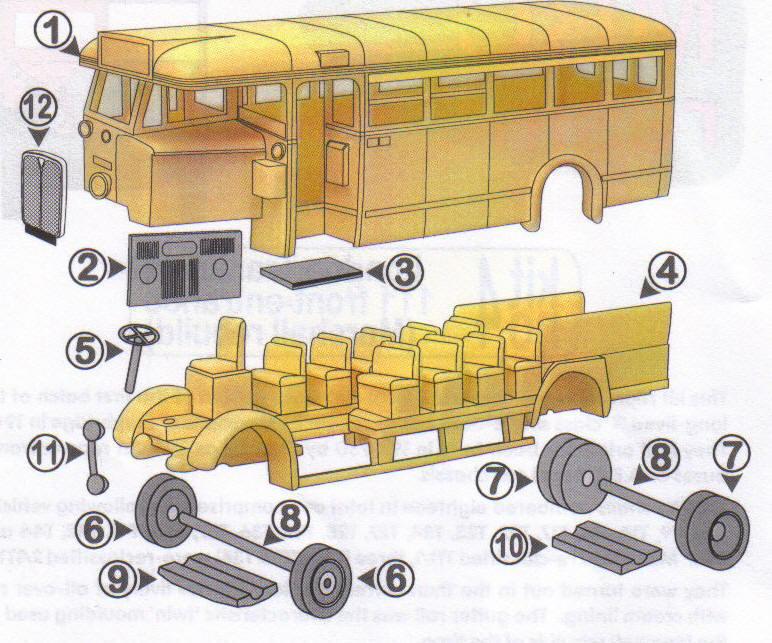 By the late forties there was an acute vehicle shortage and the timber-framed bodywork on many vehicles were showing there age. 18 of the front entrance Regals were refurbished by Marshall's of Cambridge to prolong their lives until replaced in 1953. This is the subject of his latest model Classified 1T1/1 circa 1948. There are some minor differences in body detail to the original.

The deep side moulding was removed from beneath the windows, and above the skirt line. The broad band around the roofline was also removed and replaced with a double beading. The overall appearance gave these buses a smoother outline. All were painted in the post war livery of all over red with the beading in cream; a similar treatment was afforded to some of the LT Scooters the subject of a model from the L.B.C. last year.

All eighteen buses were allocated to Kingston garage (K) for service on routes 201, 218.and 264.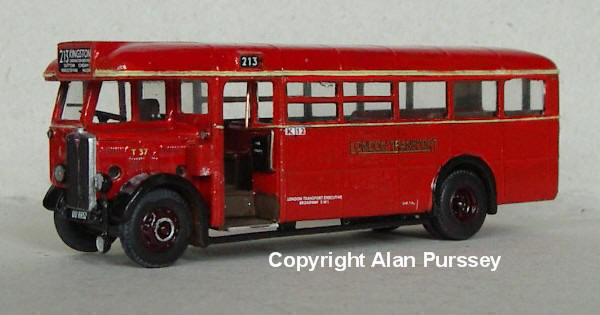 The model numbered 4 in the series comes in a stout box with a colour illustration on the lid. The instructions are collectable in their own right, and include a brief history plus a front and side colour guide to aid painting, and transfer application. The reverse side shows an explicit cut away diagram in colour displaying all the parts.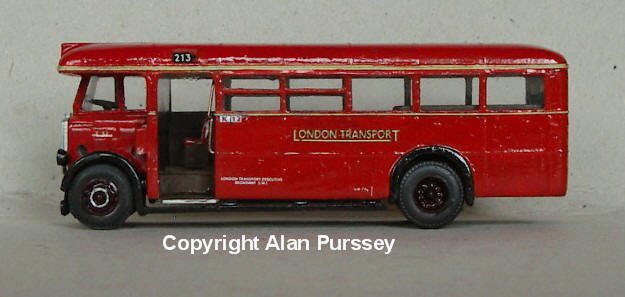 The kit comprises a one-piece resin body shell, plus a chassis-seating unit. Cast metal parts include the steering wheel, radiator, headlight and spotlight unit, step, and bonnet side, and axle retainers. Wheels are push fit from the L.B.C. range. The resin body is very finely detailed to scale proportions, with all the fine body panel joints, down to the used ticket box in the entrance. Graham has very cleverly replicated the double beading around the roofline to make this an astounding model.

At first sight it looks rather daunting to paint, but after cleaning off any moulding flash, prime the model first: this helps show any point that has been missed.

I then painted the cream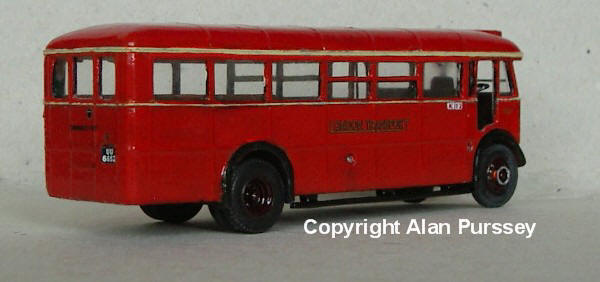 lining first, and when its dry, set about the red main coat up to the lining. The beading is proud enough to give a straight line. After painting cut and add the glazing material provided in the kit before final assembly of the chassis unit. A self-tapping screw is provided to attach the chassis unit to the body shell.

To super detail the model items such as wing mirrors can be added together with fine wire to represent the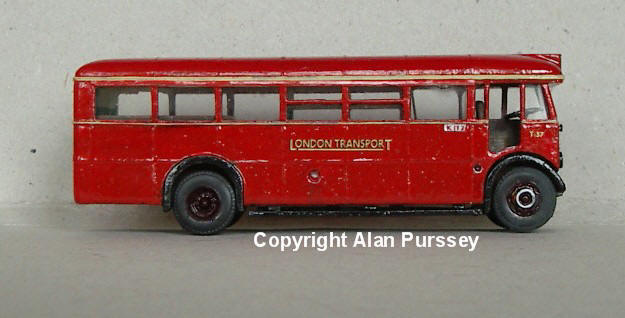 handles. A transfer of the Beclawat emergency rear door handle is included and should be fitted with the point facing down on the right hand side of the door just below the beading.

Transfers to complete the model as T37 on route 213 are available separately and include registration plates, legal lettering, destination screen, garage plates, and come post free if ordered with the kit.

This is defiantly one for the more mature modeller! (especially those like myself who can remember the vehicles in service running out of Kingston Garage).

The model is £32.00 plus £1.00 for postage and packing or £2.00 for two or more models to the, THE MODEL BUS COMPANY, Cres Mor, Perranuthnoe, Penzance, TR20 9NR. Tel 01736 711982
Alan Purssey