EFE Zone Related Questions -- Exclusive First Editions Related Questions


---
EFE Zone Related Questions
What is the EFE Zone?
The web site is dedicated to the range of diecast models produced by Exclusive First Editions and it's parent Gilbow Holdings.


What models are covered by this site?
The aim of the site is cover ALL the models produced by EFE, this includes not just the public transport related road vehicles, but also the truck, car and the tube trains.
The site will also cover ALL the models produced under the Gilbow name, including the Ship, Railway Series, tinplate range & 1:24th scale buses.


Why did you make this site?
Well the main reason was that there is very little on the web, which covers this large range of models. True the British Model Buses site does give excellent coverage of that part of the range, but the trucks and others models don't appear to have any web based information sources.
Also the Official EFE web site, that is hosted at www.showbus.com, is mainly based on the information contained in the monthly Release Sheets provided by EFE. This makes it difficult to pinpoint a particular model release quickly and many of the earlier models are not covered at all while details of many of the numerous commissioned models are often omitted altogether.


Where did the model information come from?
Well where possible the details on the site have been obtained by actual examination of the said model however I've not been available to get my hands on all of the models, so details have also been obtained from various printed and web sources.

Click here to view a list of the Sources used to obtain information shown on this site.



Is this site connected to EFE or Gilbow?
I'm not connected to EFE on an official basis and have no input or knowledge of their future release plans.
Exclusive First Editions do however kindly supply me with official high resolution pictures and details of all the forthcoming releases as they are announced and this is very much appreciated.
This site is run as a none profit exercise and that's the way I plan it to keep it. It started out hosted on my ISP's free web space (max 150meg). However following major problems with the original hosts Orange in late 2006 I decided to acquire 750meg of web space from a professional hosting service. Both the EFE & OOC sites are now hosted on www.modelbuszone.co.uk domian with the original www.efezone.co.uk & www.ooczone.co.uk addresses re-directing to the relevant sections on this domain.


Do you collect EFE Models?
Yes and like many people the collection consists of mainly bus and coach models. Since launching this site I've also acquired quite a large selection of the truck models.


Will the site have pictures of all the models?
Fortunately I've managed to obtain pictures of most of the models now. Many of the original gaps have now been filled by visitors to the site who have kindly supplied pictures of their own models.

A list of all those who have supplied pictures can be found on the sources page

A list of the small number of outstanding model pictures can be found on the Missing Photographs Page If anyone can supply pictures of any of these models please email me.


Will the pictures be bigger?
At present the site is undergoing a major overhaul which will see larger pictures of all the models added eventually. All the bus pages have now been upgraded and the trucks and other models will follow during 2009. A sister Fotopic site is also operated which contains "Super Sized" pictures of the majority of the models.


Is this your first web site? (because it sure looks like it)
Yes this was my first attempt at this HTML coding thing, and yes I made some serious mistakes with the original design. The current ongoing site overhaul will hopefully address many of the original shortcomings.
The site is hand coded in HTML using the excellent freeware HTML Builder XP version 6 editor, I'm learning HTML along the way and now dabbling in JavaScript so the look of the site will continue to improve as I learn more new tricks!


How often is the site updated?
The site is usually updated at least twice a week although updates are also related to the flow of EFE related news and models.


When will the 'coming soon' sections be added?
I hope to add the packaging & EFE History sections in the future, I already have early draft versions which need some updating and formatting before I add them.


I've found error in the information you've supplied!
Yes there may be some errors. I've attempted to make the lists as accurate as possible but in some cases conflicting information exists and with well over 1800 models the odd mistake is bound to creep in. If you find an error or have additional details, then please email and let me known so I can amend the site accordingly.


Can I use your model pictures on my web site?
Well the general answer is No, however I will consider requests, if - (A) I own the copyright to the photographs and (B) You contact me via email first. I may also be able to supply you with larger better quality images. Please note that I'm unable to give consent for use of any of the third party supplied photographs on the site. These are all clearly marked and the copyright of these images remains with the original authors. Important Note: Use of any of these third party pictures on eBay may result in sellers being reported for Copyright infringement.


Do you have any plans to cover other manufacturers models?
I launched the sister OOC Zone site in April 2006 which covers the 800 or so model buses released in the Corgi Original Omnibus Company range.
At present operating both sites is taking up most of my available spare time and in regards to the Britbus & CMNL models these are already well documented elsewhere on the web so although adding details for these would be a fairly easy task compared to the EFE & OOC models I don't see any great need to do so at present, I would also need to source a very large number of suitable model pictures as I don't have many of these models myself.


Do you sell the models shown on this site?
I'm not a model dealer and none of the models shown on this site are currently for sale.


Contacting the EFE Zone
Found an error or omission, got a question or suggestion, then contact me using the form on the Contact page or use the email address shown above.
I will endeavour to reply to all messages within 48 hours where required. Any information concerning EFE or OOC models is always must welcome.


---
Exclusive First Editions Related Questions
How can I contact Exclusive First Editions?
Exclusive First Editions don't have a public email contact address so you'll either have to write to them at:

Exclusive First Editions,
32 Woodall Road,
Enfield,
EN3 4LG,
United Kingdom

or Phone: 020 8344 6720 / Fax: 020 8344 6723
You can also visit their official site: www.exclusivefirsteditions.com


What is the EFE Subscription Service and how can I join?
The EFE Subscription Service is operated by Exclusive First Editions and consists of a regular Newsletter, penned by Frank Joyce the MD of EFE, and a full colour A4 sheet showing forthcoming model releases. Currently a 1 year subscription is available and this consists of around ten mailings. Subscribers also receive access to special model offers direct from EFE.

The current annual subscription rates (May 2009) are:
(UK) £8.00
(Overseas) £15.00
UK Postal Order & Cheques payable to "Gilbow Goldings Ltd" should be sent to the above address.


Can I suggest a model or livery idea to Exclusive First Editions?
Yes EFE say they welcome suggestions for future castings and livery ideas unfortunately there's no guarantee that every suggestion will result in a new model but there's always a chance it might.

EFE released the A4 leaflet reproduced below which lists the type of information that can aid the research process needed before a new model is produced.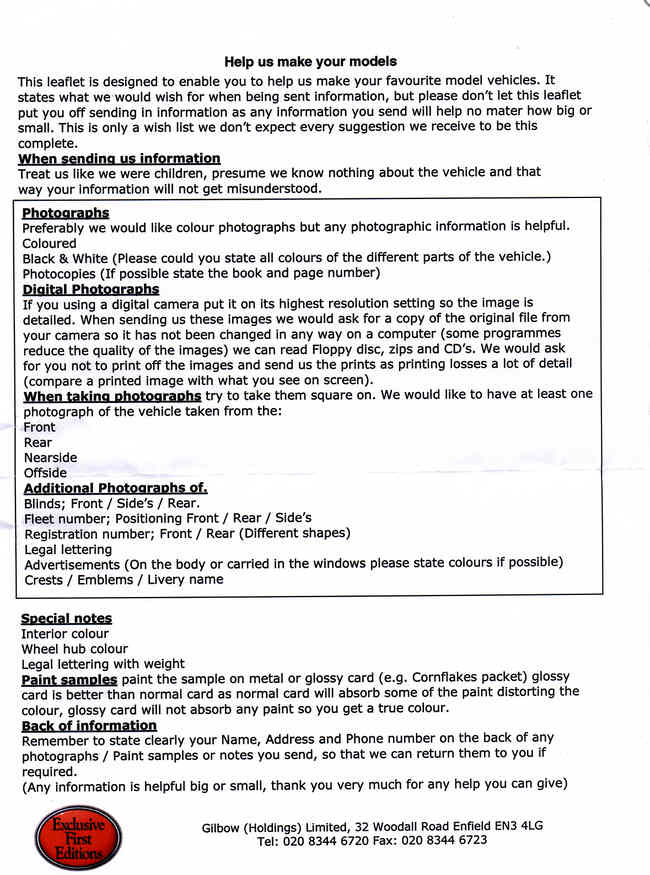 ---