The following press release has been issued by the Northcord Model Company.



NORTHCORD MODEL COMPANY - PRESS RELEASE
ADL Enviro400 MMC
ukbus 6524 Stagecoach North West – The Lakes Connection 555


Following the significant success in launching the brand new casting of the Alexander Dennis Enviro400 MMC model in the liveries of National Express West Midlands, Stagecoach in Oxfordshire, Bluestar, Stagecoach West Scotland, Southern Vectis, Stagecoach South, Ensign Bus and Xplore Dundee, Northcord Model Company is now releasing the twelfth livery on the 10.9 metre long, single-door casting – ukbus 6524 in the livery of Stagecoach North West with full branding for route 555 The Lakes Connection.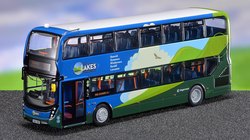 10555 (SN16 ONX) is one of 12 Alexander Dennis Enviro400 MMCs that were introduced for the Lakes Connection network in 2016 and that are now part of the Stagecoach Cumbria and North Lancashire fleet. Within the batch, 10552 – 10563, the first seven share the same branding as on the model for route 555 and the final five feature a different list of destinations, albeit on the same base livery.
The bus that was chosen as the subject for ukbus 6524 is particularly auspicious due to the connection between the route number and the final three digits of the fleet number : 555. ukbus 6524 carries a full, branded livery for route 555, showing the destination to Keswick. The special, comprehensive livery and branding are 100% reproduced onto the ukbus 6524 model. The stand-out features of the branding are : "free WiFi, USB charging" on all sides, and the name of every main stop "Keswick, Grasmere, Windermere, Kendal, Lancaster" on both sides, and "£11.30 ALL DAY into and around the Lakes" on the rear.
The bus is fitted with Lazzerini seating, covered in E-Leather, total seating capacity is 74. Designed by Ray Stenning of Best Impression, the livery promotes, both inside and outside the bus, the attractions and landscape of the Lake District.
The Alexander Dennis Enviro400 MMC ukbus 6524 is a one-piece casting whose clean lines accentuate the square, gasket-mounted windows and the livery application on which all logos and lettering are clearly legible. Another main feature on the ukbus 6524 model is its single tree protector at the front. The front dome on the model is significant, with curved windscreens on both upper deck and lower deck.
Northcord Model Company is also creating new design standards within the interior of both saloons. These features, inside the compartments, will represent the real, outstanding layout of the Enviro400 MMC, such as the extensive portrayal of handrails on upper deck and lower deck, etc.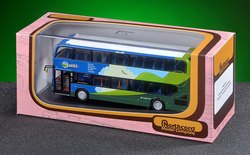 The brand new Enviro400 MMC bus models will be distributed by John Ayrey Die-Casts Limited (UK), Porte Publishing Company (Japan), 80M Bus Model Shop and Concorde Hobby Shop (HK) respectively. The ukbus 6524 model is limited to 888 pieces worldwide.