Selling Models | eBay Tips | Type Variations

Selling Bus Models
I often get emails asking what's the best way of selling models, often these are from relatives of deceased family members who are left to dispose of large model bus collections. Many will have little or no idea of the value of the models or how or where to dispose of them.
Below I'll try and answer a few of the frequently asked questions.

Model Values
A common question is how do I find out the value of a particular model, well there are several options but all should be taken as a rough guide only.

1. The Model Price Guide: There were several different printed lists giving guide prices for a large range of die-cast models, the cheapest of these was the annual Model Collector Price Guide, this covers all the main model bus ranges from the likes of EFE, Corgi Original Omnibus, Creative Master Northcord & Britbus, it also covers the older Dinky Matchbox & Corgi Toys.
The prices quoted in printed guides are based on those you'd expect to pay a model dealer and are for the best mint & boxed models.
The price will also be greatly affected by not just the quality of the model but also that of the box, if this is damaged it will greatly reduce the selling price, unboxed models will be worth only a fraction of a mint box one even if the model itself is perfect.

The last Model Collector Price Guide appears to have been issued in 2014, and no further new issued seemed to be planned now. Old copies of these guides can be found on eBay for a few pounds and although out of date they may still be useful for identifying rarer & higher value items. In reality the actual prices quoted were rarely amended between each issue anyway. They just added the new model releases from the previous 12 months.
eBay - Model Collector Price Guide Listings

2. eBay: This has become a popular choice for those looking to buy or sell models, so searching for a model that you have by it's reference code may well yield similar ones on the site and give you a pretty good idea it's value. Generally speaking eBay is a buyers market and there will often be more than one example of each model available, prices achieved are therefore likely to be lower than those quoted in printed guides.

You can also use eBay's "Advanced Search" option to list any recently "Sold listings" matching the make & model number, ie EFE 15605 or OOC 43602 etc. this option seems to list all items sold in around the previous four months, it includes the final selling price, postage cost & number of bids placed.
Obviously the results will vary depending on the number of a particular model sold, if any, during the period covered.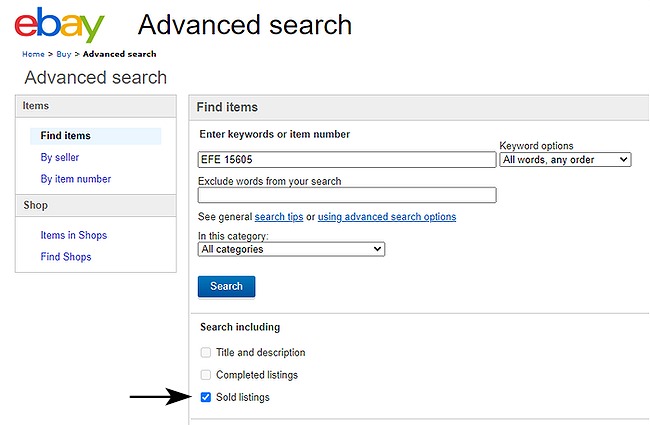 eBay advanced search offers many additional options beyond those shown in this screen capture.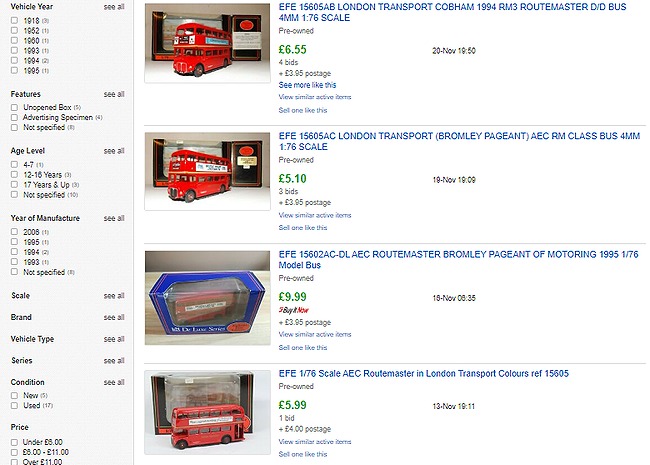 This search for recently sold EFE 15605 has also found a number of limited edition event models with suffix letters that were based on the original base model.



Note, if searching for Corgi OOC items be aware that the early releases had ref codes without the "OM" prefix, when the OM prefix was introduced, Corgi also restarted many of the model type numbering series from OM4xx01, so there are sometimes two different models with very similar numbers, ie 43602 (Badgerline) & OM43602 (Wilts & Dorset).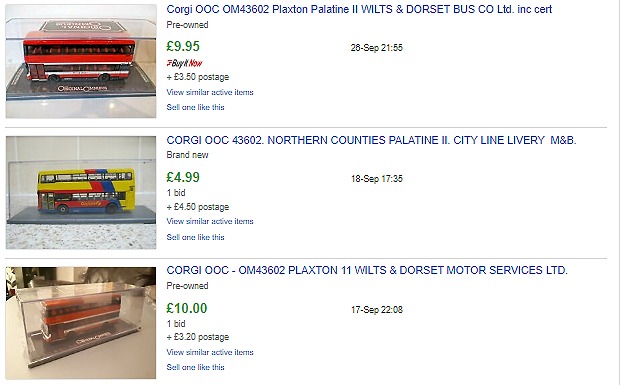 3. Model Dealer sites: The Modelstore & Hattons both have large stocks of older models and searching these sites may again give you an idea of the current value of a model.

Where to Sell Models
1. Model Dealers: There are several model dealers who specialize in model buses and may make offers on individual models or whole collections, generally speaking dealers will offer a flat price per model when dealing with large collections of standard release models, they will probably offer more for the rarest commissioned models, but you need to remember that the dealer is running a business and will need to make a profit and cover their overheads, don't therefore be surprised if the price offered is considerably less than the prices printed in a price guide or found on model dealer sites.
Daves Diecast Models | Hattons Model Railways | The Modelstore.co.uk | TTC Diecast | Little Wheels
If any other dealers would like to be listed here please email for a free site or email link insertion

2.eBay: The good thing about eBay is that it has a big audience, so listing your model here will give you access to a large number of potential buyers, the bad news is that there's a strong likelihood that there will be numerous identical models to the one you are selling, so buyers are unlikely to bid high or buy it if the "Buy it Now" price is high. There are also fee's for listing each item, which are payable whether of not you sell the model, if you do sell it eBay will also take an additional commission & their will be fees to use online payment services such as Paypal etc. (see selling on eBay section below).
eBay UK | eBay USA

3. Model Auctions There a few auction houses that specialize is toys and models. They organize regular auction events and will auction models or larger collections on your behalf. Obviously they will take a commission which is typically between 15% to 22% of the items selling price plus VAT.
Vectis Auctions | UK Toy Auctions

These models must be worth a fortune
Sadly the truth is that the majority of the current model buses are probably worth less than the price originally paid for them when they were issued. Many of the early models produced in the 1990s by both EFE & Corgi OOC were produced in very large volumes, several thousand examples of each model certainly wasn't unusual. Today the majority of new models being released are only runs of a few hundred rather than thousands and this reflects the now more depressed market for model buses.

Yes there are some rare and sort after models out there and these can achirve a premium price, but generally speaking these are the exception rather than the norm and in some cases these are models that were commissioned by third parties rather than standard retail releases.

Remember also that these model buses were aimed at adult collectors and not children, unlike the now highly collectable Dinky & Corgi Toys of the pre 1980s, the vast majority of the model buses will therefore still be mint & boxed and certainly won't have been played with in the sand pit or buried in the garden, thus supply will often be greater than the current demand.

---
The model bus community across the world uses eBay increasingly. With a little care and courtesy it can be a very good way to both sell and acquire models. A little thought before you act can often bring rewards, and it is hoped that you may find one or two of the following tips helpful.
Whilst most of what follows applies to all in the eBay community, the words on postage are written from a UK perspective, and if you live elsewhere you are strongly advised to check the conditions of use for the postal service in your country.
BUYING
If you consider buying, ALWAYS check the seller's feedback before acting.
NEVER be afraid to 'ask the seller a question' before bidding.
MIB = mint in box - MIMB = mint in mint box - MINMB = mint in near-mint box
ALWAYS question the words 'mint in box', or 'mint and boxed' – there's the suggestion that the model is being described as mint, and no guarantee whatsoever that the box is mint, or even close to it!
If the model and/or box isn't described as 'mint', do you know what prevents the seller from applying the word to the sale?
CHECK you are happy to pay the Postage and Packing charges shown: if they are not shown, consider the 'ask the seller a question' option to ensure you are not likely to be surprised.
CHECK there isn't a surcharge for paying electronically (Paypal, etc.). Such surcharges are contrary to eBay's Terms and Conditions in the UK and those who demand such surcharges should be reported by way of the link at the foot** of this page:
BID as much as you are prepared to pay – in that way you will never be disappointed at being 'pipped at the post' in the last few seconds of an auction.

See Here for more details from eBay.
SELLING
Remember that a starting price of up to 4.99 GBP attracts a lesser listing fee than 5.00 GBP. Likewise 14.99 GBP is cheaper than 15.00 GBP.
ALWAYS put EFE/OOC/CMNL etc. and the manufacturer's model number in the 'Item Title' line – many people can't be bothered to sift through auctions beyond the main 'Title' search because of the huge number of distractions in the 'descriptions' search.
Be very careful with selling a model from one manufacturer, and including words for another to increase the chances of buyers picking up on your auction. eBay frowns on this: see Here for more information, and be warned!

Offer as much information as you are able to about your sale – e.g. date of issue, destination, registration/route/fleet numbers, and ESPECIALLY details of certification where appropriate.
NEVER use the word mint if you then qualify it, e.g. 'mint model apart from small chip on the roof', or 'box is mint apart from a small split in the window'.
ALWAYS describe the condition of both the model and the box.
Always include the box in the photo', and the certificate if appropriate.
Be wary of putting 'box only opened for photo'', or words to this effect – it immediately puts doubts into buyers' minds. Equally a 'mint model' in a 'box never opened' raises obvious questions!
Be careful in how you describe an OOC model that was originally retailed in a shrink-wrapped display case. Such OOC boxes are best described as mint only if they retain that original shrink-wrapping. 'Shrink-wrapping removed for photo only' may be one to avoid if you collect MIMB models
Use a 'reserve price' carefully, as it will often put off potential buyers.
Take advantage of 'Free Listing Days' and 'Free Buy it Now' days, but be aware that your auction may face much greater competition for buyers money.
Think carefully about how much you intend to charge for Postage and Packing. After 'Negative Feedback', excessive P&P charges are the next biggest obstacle to attracting buyers.
Pack every model with special care: whether you sold it for 1000 GBP or 1 GBP, the potential consequence of negative feedback will be the same if the model or its box arrives damaged! That additional bit of cardboard protecting the window of the EFE model is well worth the effort, and the constant thought that Corgi and CMNL Perspex showcases are extremely vulnerable (Corgi outer wrapping as well) should be remembered.
UK postage*: remember 'proof of posting' is free, and yet carries compensation up to 50 GBP. Recorded Delivery also attracts insurance of up to 50 GBP, and the assurance that delivery of the item can be quickly proven. Special Delivery offers the potential for compensation up to 2,500 GBP.
Always remember that, technically, the contract lies with the purchaser of the service: if you offer 'free' postage, it is you that are liable when it comes to sorting out any difficulties – if the postage is paid for by the buyer it is their responsibility to accept the information/paperwork from you to sort for themselves. You may, of course, feel that it is a part of your service as a seller to sort these things on their behalf: often the easiest thing to do.
Consult https://www.royalmail.com/sites/royalmail.com/files/2021-11/UK_Post_Scheme_27_April_2020.pdf for full details.
Postage from other countries: please refer to the website for your own postal service.

See Here for more details from eBay.
BUYING AND SELLING
Both sellers and buyers are generally anxious to avoid anything less than positive feedback. Potential problems are best identified before the sale ends by correspondence between the two parties. If someone with extremely poor feedback bids on your item, don't hesitate to make it clear to them that you will expect funds to clear before the item is dispatched. If your item arrives with the buyer damaged, or you receive a damaged item, you are best advised to correspond to resolve the matter.
Above all be polite and courteous in your correspondence at all times. The placement of negative feedback should be a point of last resort, never a means of 'getting your own back'.
More problems are caused by the premature placement of negative feedback than almost anything else on eBay. Remember: the majority of eBay users are reasonable and friendly people, and appreciate time taken to discuss reasonable difficulties, and then enjoy the consequent resolution of problems without resorting to a generally unnecessary Feedback slanging match.
Above all, have fun – if your service is good, and your appreciation of well conducted transaction noted, you will come to enjoy a loyal following on eBay, and make many friends.
See Here for more details from eBay.
Neither The Model Bus Website, nor its proprietors, can accept responsibility for any inaccuracies in the above information, and cannot be held liable for difficulties arising from any such inaccuracies. The words are meant as a guide only, and primarily as friendly advice.
* Information deemed correct as at 16th November 2021
** Report eBay Payment Surcharges
---
Type variations - what should a model manufacturer do?
by Rod Blackburn
An ever popular discussion point amongst model collectors is what prototypes model manufacturers should be considering to produce. There are frequent demands for obscure liveries and obscure prototypes for which commercial returns in volume sales seem highly unlikely. Judging by recent discussion on the Internet, there is even a feeling that these obscure types likely to appeal to only a few buyers should be priced as cheaply as those with a greater market appeal, even though the same or possibly greater research resource is required to ensure accuracy in these rare cases.

Given that the supply of prototypes produced in significant numbers for multiple operators that have not already been produced in model form is fast running out, what is the manufacturer to do? One approach, adopted by EFE with its London Transport STL and OOC with its Midland Red D9, is to go ahead with a model with limited variations, but whose prototype had wide public exposure and which thus might be expected to generate wide nostalgic interest and perhaps sales outside the regular collector market. In both the examples quoted above there are minor casting variations that are possible that may increase the sales potential. A second approach is to select a prototype of significant technical interest or visual appeal, criteria which might apply to EFE's Leyland TD1 and OOC's forthcoming AEC Q double decker. The TD1 was arguably the first modern bus and has a number of livery possibilities, but I have heard that the models have not sold all that well. Perhaps not many people remember the originals. The Q was a very interesting vehicle and the few double deckers that were sold (23) went to a number of operators so there is some scope for livery variation, but not all of them had the same body and even those with the majority MCW body were not all the same. Compare the upper deck rear window of the London version with that of the provincial MCW body. OOC will have to stretch credibility a little, although not as much as using the Q1 five bay body casting to represent many six bay bodied six wheel trolleybuses. It will be very interesting to learn how well the Q sells.

Providing the manufacturer allows for them, casting variations can significantly extend the sales potential of a base casting. EFE's long wheelbase RM model is a good example of this with its two and four headlamp versions with and without platform doors. The original short wheelbase casting design did not allow for those variations so we are unlikely to see an RMC.

EFE's first venture away from its original RT, the Leyland bodied PD, provides another interesting approach to variation. By producing two top halves and two bottom halves EFE were able to offer four distinct vehicles: low- and high-bridge versions of both the PD1 and the PD2.

Variant sub-assemblies for EFE's Orion bodied vehicles and both EFE's and OOC's utilities have extended the possibilities for the base castings considerably. Although in the latter case credibility has again been stretched by applying the Park Royal body to chassis which never carried it.

A variation which I think would be hard to produce economically is the difference between wide and narrow versions where a chassis was available in 8' and 7'6" variants. So far as I know, this has not been attempted. I have seen it suggested that an approach to the width problem could be to make the model a scale 7'9'' wide, but I think this would be a poor solution as there would be no distinction between the two types in the same fleet, such as RTL and RTW in London. The OOC Bristol K scales at 7' 9" and, at least in that aspect, is not a satisfactory model.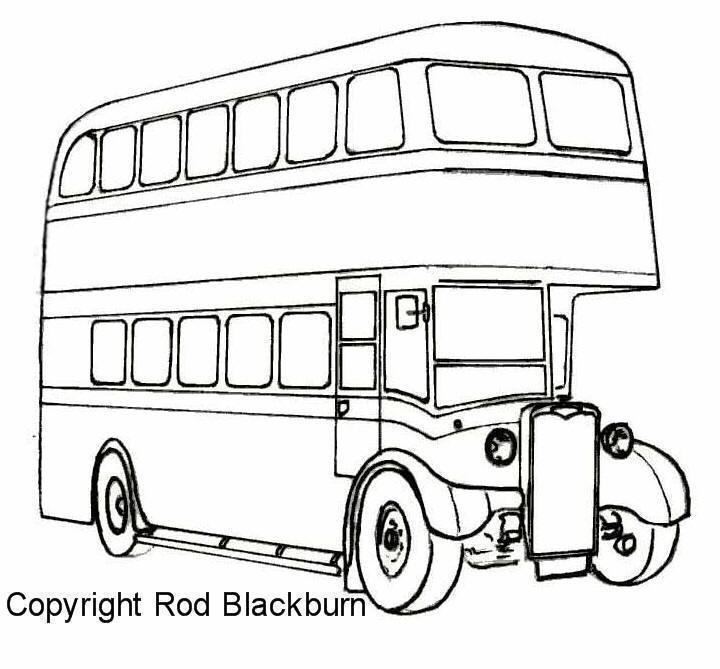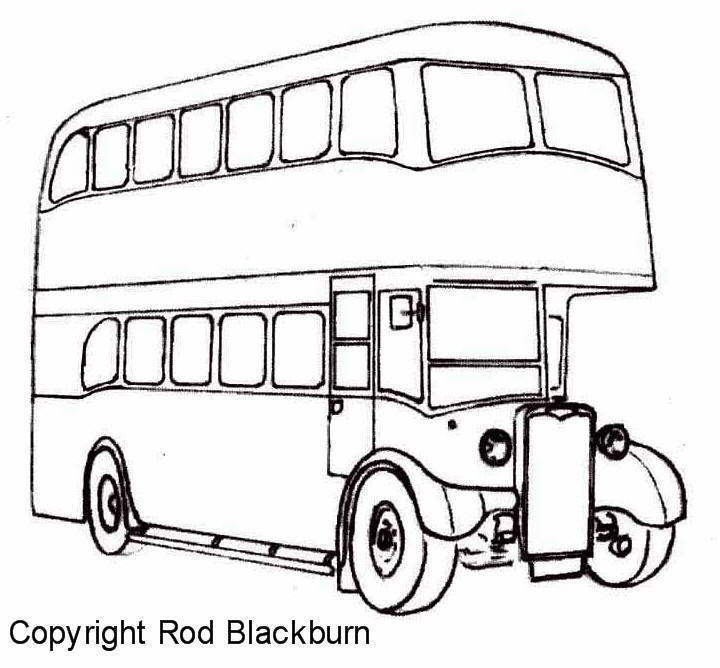 Long and short wheelbase versions and front and rear entrance bodies are also difficult variations to plan into a single casting. These complexities made it necessary, for example, for EFE to choose a specific version of the Bristol F Lodekka. The choice of the FLF was probably guided by the fact that it was the most numerous variant in prototype form.

A body style that was seen in many parts of the UK and that has not yet been produced by a diecast manufacturer is the immediately post-war Crossley. There were slight variations in the window shapes that would preclude accurate representation with a single casting of all fleets where it appeared, but the Crossley body was produced by other manufacturers, notably MCW, and applied to other chassis, for example Guy and Leyland, which might increase its sales potential as a model.

Some purchasers of models are modellers as well as collectors and I believe that manufacturers could maximise the sale of castings if, when faced with the sort of dilemma outlined above, they were to choose a prototype which offered the maximum scope for modification for the modeller to produce his own variations if desired. For instance, if a Crossley body were to be produced, the window shape associated with the Manchester style cantilevered platform would probably allow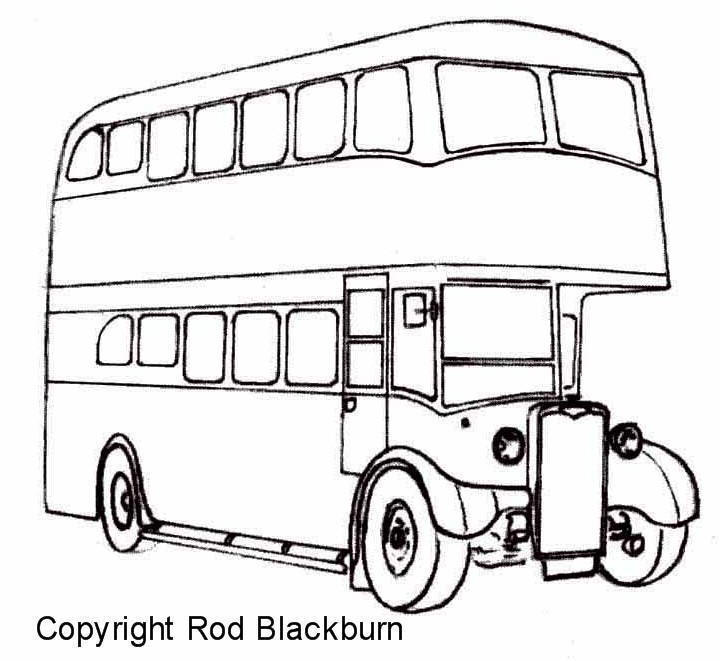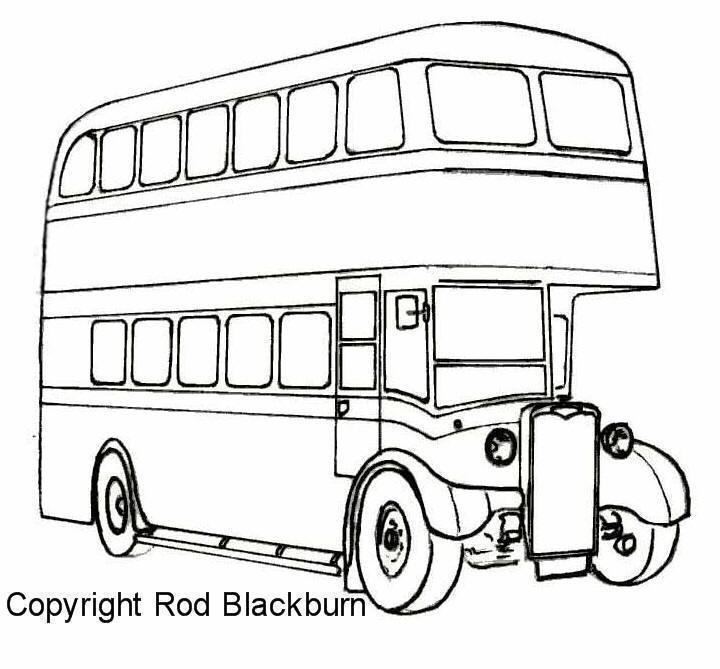 the easiest conversion to the two alternative shapes for the rear side windows. On the other hand the two possible variations for the front upper deck windows could probably addressed by producing the un-swooped windows as were seen on the bodies supplied to Luton, which also had the Manchester stepped style rear windows. This suggests that a model of the Luton vehicle could be converted fairly easily to any of the other versions, but the manufacturer would still have to choose between the low- and high-bridge versions (Luton had both) unless the EFE PD solution was adopted. And some such Crossleys were 8' wide. Perhaps not attractive to a diecast manufacturer for what might not be a very big seller, but certainly a possibility for a resin kit, where some modelling skill might be expected in the purchaser.

Of course, in the end, if your interests lie in producing a model fleet representative of the types that were to be seen in a particular real fleet it is likely that you will have to have recourse to kit building, conversion, or even, dare I suggest it, scratch building. For example, it has certainly given me much more satisfaction to convert a 7'6" EFE RT to an 8' RTW than I would have had if I could only have had incorrect 7'9" RTs, but at the very least application of an alternative livery might increase the number of ready made models that will fit your fleet. If you do it yourself, the variations are in your own hands and the satisfaction is enormous. No need to carp at the manufacturers then.
Rod Blackburn

This article is reproduced with the permission of the author, Rod Blackburn. It originally appeared in November/December 2001 issue (number 78) of Australian Model Bus, the journal of the Model Bus Association of Australia. Whilst the journal of 2001 does not reflect the standard of today's journal, you may be interested to see the whole of the November/December 2001 issue. This is available as a 1.36Mb PDF file here. The MBAA maintain a website here.