Card Kit Building | Card Kit Bus Garages | Converting Die-casts | Diorama Building | Diorama Bus Depot | Modelling Tools | Removing Decals | Detailing | Dismantling the OOC Optare Solo | Motorising the EFE Horsfield Tram | Painting | Providing photos for model manufacturers | Reigate Bus Garage Diorama |Waterslide Transfers (application) | Waterslide Transfers (making) | Weathering Model Buses
A series of hints and tips for the modeller - see NEW for the latest tips. Click on the pics for larger images.
---
Card Kit Building - Siggy de Reuther
Before you start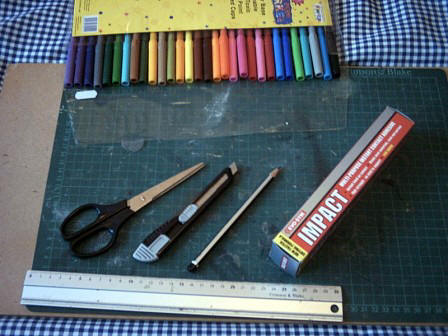 Before starting to build any card models, the first item to address is a work area and basic tools. If nothing else, a small off-cut of MDF slightly larger than the cutting mat will suffice and this will mean the "work-station" can be transported easily if you have nothing else to work on other than the kitchen table. However, a dedicated hobby room with work area is better if you have one.

Essential items are a cutting mat, sharp knife, steel rule and glue (see picture 1). All these items are easily obtainable in shops, often the cutting mat will come as a starter kit with rule and knife. I always use the Evo-Stik impact glue as I find this works very well and is an easy product to obtain and use. Added to the basic tools such items as scissors, tweezers, cocktail sticks, a cheap set of water-based felt tip pens or water colour paints are advisable. The scissors are better for cutting out the glazing from the clear sheets, tweezers are useful for small parts, whilst cocktail sticks will help with the initial roll when forming the card chimney pots on most models.

Getting started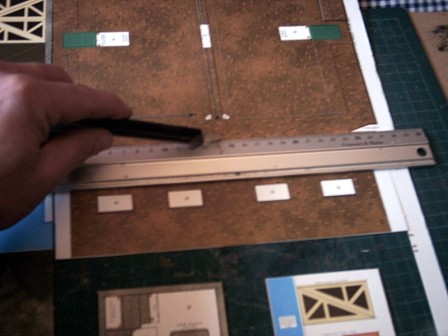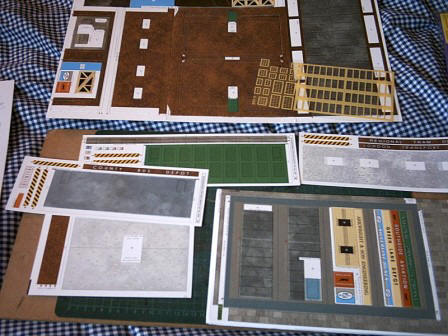 Having now bought a card kit or two, it is now time to commence construction. There are a few "golden rules" to follow, and most kits will state similar words in the instructions (see picture 2). ALWAYS read and familiarise yourself with the instructions, making a note of the parts. Layout all the complete sheets from the kit but NEVER remove any part until you need it. Most card kits are pre-cut but when removing parts NEVER feel tempted to push out the parts out as nicked or pipped edges will occur. This can make for poor joins between parts and spoil the end result. Therefore it is essential to cut through the card edges to remove parts as shown (see picture 3). Taking each part as required and colour in the white edges in as close a colour-match as possible. (Card-4) This will greatly enhance the look of the completed kit, and may be achieved by use of felt-tip pens or water colour paints. I would advise working from the non-printed side to avoid any over-run onto the visible side.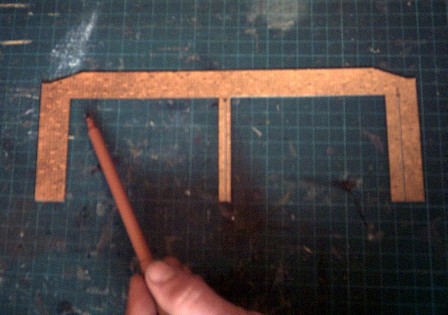 Cutting out

A golden rule with using a knife or scalpel is always use light cuts rather than heavy pressure in case the blade breaks!

Window apertures - most kits contain wall (and sometimes roof) sections that include cut-outs for glazing. Always remove these with a knife, working from the corners to the centre, never work to the corners in case of accidental slippage of the knife onto the printed surface. Don't forget to colour the card edges in appropriate colours, sills are often in a contrasting colour to brickwork.

Tip: do not discard the cut-out parts from windows apertures as these can prove useful for additional internal bracing and the perfect 90 angle is often useful for corner joints.

Construction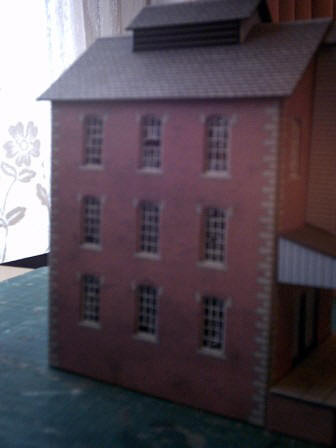 When joining two kit parts (such as two walls to form a corner) there is a technique to achieve a good result. I always use Evo-Stik Impact because I find it an easy product to work with and the bonding qualities are very good. Apply a thin bead to each corner edge, noting first which part will be on the outside. Always holding the tube at a horizontal or upward angle, very gently squeeze the far end of the tube to apply the glue. Never hold the tube downwards otherwise gravity will take over! Allow the glue to become touch-dry and, working on a flat surface, bring the parts into contact and the glue will bond. There is a short time before the glue fully sets so use this time to ensure there is no misalignment and that the joins are squared. If the parts are not aligned, simply pull apart immediately and re-try. If necessary, practice gluing and joining on scrap card prior to construction.

Glazing

Glazing normally comes in printed sheets and requires cutting out. Always hold the glazing pieces by the edges otherwise unsightly finger prints will transfer onto the glazing! To fix the glazing in place, apply glue to inner sides of the wall sections, working around the edges but do not pass the tube over the opening in case of glue "stringing". If this does occur, remove with a cocktail stick prior to fitting glazing. I find the best method to fix glazing in place is to lay the glazing down on the work surface, making sure the printed side is face-up, as per instructions, and carefully lower the wall section down onto the glazing. Ensure the glue is touch-dry before commencing this procedure and the glazing is nicely centred with an even frame. Once you are happy, fully press down the wall section to bond fully. Often kits will include extra glazing so, again, practice makes perfect!

Glazing Tip 1: One point to consider is that all manufacturers' instructions say that the printed side of glazing should face outwards. However if you are constructing something like a bus garage where the back wall will be positioned against the diorama back-scene, there is little point in doing this and visually it will be better to reverse the glazing so the printed side is displayed.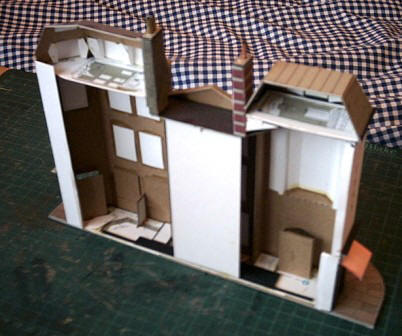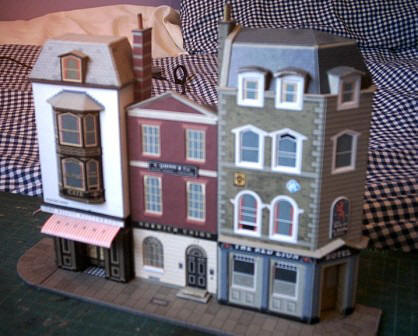 Glazing Tip 2: For a touch of added realism, if you want to model derelict buildings, try carefully cutting out some of the individual glass panes. Smashed windows can be simulated by pressing the knife point into individual panes and carefully "nicking out" parts of individual panes. Even some of the older traditional bus garages often have a broken windows. The trick is less-is-best for believable results (see picture 5).

Work in small stages

It is often easier to work on one building or a row of buildings (see pictures 6 and 7) and then add these by "plugging in". Illustrated is one of Superquick low-relief kits where paving has been added in readiness to add to a future diorama project. Note the use of additional card bracing and use of scrap card on the rear view.

Sourcing Materials

Those that have seen and read about my Devils Dyke diorama will know that the actual base started life as a pizza box! Even the road surfaces are textured using dried out tea and talc, whilst the tree trunk is twisted wire strands covered in bandage! With a little imagination, it is amazing what non-model products can be added to the overall diorama display!

---
Card Kit Bus Garages - Siggy de Reuther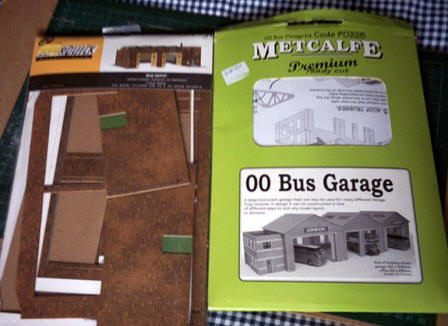 Building a card bus garage - Metcalfe vs. Superquick

Both the leading card kit manufacturers, Metcalfe and Superquick, produce kits of bus garages. It is all down to personal choice as to which one you purchase but to help you choose the right one for your project, I would like to offer some thoughts.

Both kits are fairly evenly priced at around £9.00 each, are readily available from most model railway shops and both feature a number of alternative features that the modeller can use.

Superquick Bus Depot - Kit B34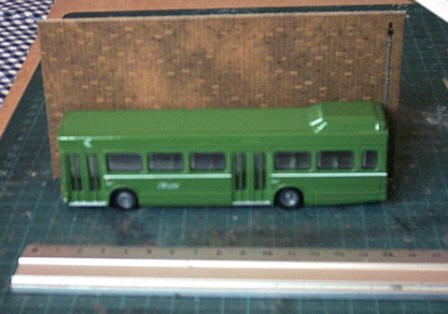 The Superquick bus depot kit is a brown-brick rectangular shaped building with an office building and paving surround. The building is a little reminiscent of London Transport, approx 1920s pre-art deco style. There is a choice of wooden-style garage doors, either cream or green that can be used in fully closed, partially open or fully open positions - there is also a shutter door lining. The garage opening is only on one end unless a second kit is added. The roof is the "northern light" style with roof windows all facing in one direction. A limited number of internal roof supports are included which are effectively cream lines on a black background but all the same very effective when viewed from above through the roof glazing. The rear wall and two end walls feature internal brick lining in contrasting light grey, the rear wall features four small windows. An option is the roof mounted tram-baffles, there are optional yellow/black chevrons for entrance wall corners, and other signs. Most unusual is the office tower walls that can be overlaid to represent either a water or fuel tank. Guttering is pre-printed to the outer depot walls. Finally a choice of signs can be added to the frontage.

The footprint of the depot is 165mm x 250mm, with office this increases to 305mm, excluding surrounding paving. Effectively, four buses can be accommodated up to a scale 37ft length. The photo shows an 11m Leyland National as a guide. The ground to front wall clearance is 70mm allowing full-height double deckers have sufficient clearance. The doors on the two end walls are green whilst the office door is blue.

Metcalfe OO Bus Garage - Kit PO225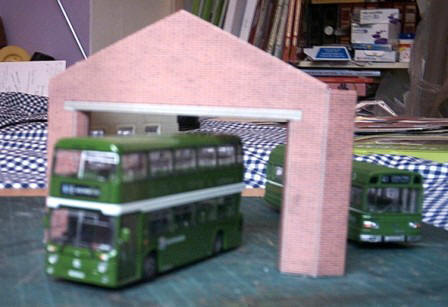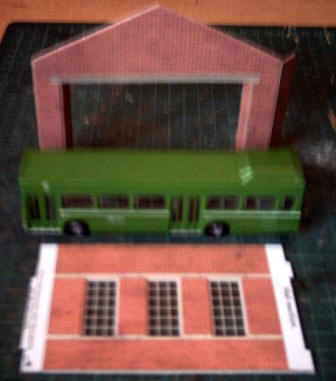 The Metcalfe bus garage is also a traditional-style building in red brick with cream and grey interior colour. The design is more versatile than Superquick in that wall sections consist of two parts so that either a wall or entrance way can be constructed allowing various shapes. Each section is 132mm long and builds into a square shape. The wall sections are effectively double thickness card with glazing sandwiched between. Apexed roofs have windows on both angles. The office section can be fitted within the outer wall sections as either an end-on or side-on structure. The kit comprises three complete sections and can accommodate six vehicles. Whereas the Superquick kit can accommodate a 37 foot vehicle the Metcalfe wall sections will only allow for a scale 31ft length bus. The ground to entrance height clearance is 65mm but still sufficient for a full-height double decker. Built as shown in the picture on the packaging, the footprint is 132mm x 396mm, with office built on the end increasing to 448mm. Concertina type doors are provided finished in two-tone blue that can only be built in the open position or paper roller shutters for the sections with two narrower entrances. The office is also finished with blue doors for personnel. Grey card roof trusses are also included. There is no paving or guttering included but a range of optional regional "mix and match" signs.

There is little to choose between the two kits, both look effective and will look good as bus garages. Careful consideration with regard to measurements should be noted, especially if you wish to house 18 metre bendibuses or 12 metre coaches. Care must also be taken with regard to entrance height if you wish to display trams but trolleybus booms should have sufficient clearance. In both kits, there is added benefit in joining more than one kit although care should be taken with regard to accessibility of model buses by human hands. In particular the Superquick kit would need the roof adapted to be lifted if more than two kits are to be joined. Possibly the Metcalfe kit could be built with the apexed roof sections left removable for ease of access. Each kit has its own plus and minus points, certainly the Metcalfe kit adds greater freedom and versatility for entrance positions but the Superquick model offers better looking doors with options in open or closed positions. In reality a bus garage structure would have far more roof trusses than either kit supplies and further interior detail could be added by the modeller, especially to the inner roof but it will largely depend on personal preferences. Consider also how much of the interior will be effectively viewed! On the Metcalfe kit, the office interior would need some interior detail as this can be clearly seen through the glazing. Curiously, both kits provide blue colour office doors. In reality, especially with more traditional major bus operators, doors usually tended to compliment the fleet colours of the company so I would recommend sourcing alternatives (such as the Peco LK78 builder pack which includes plastic doors and gutters that can be painted into your chosen colours).
Further modelling tips

Adding a maintenance or inspection pit can be achieved by using the Peco LK56 loco kit. Simply file or cut off the rail chairs and insert into a cut-out in the baseboard.

Weathering and super-detailing. All card models can be further enhanced by lightly weathering the walls. This can be achieved in a number of ways. A range of weathering powders can be applied to walls, or by a technique called dry-brushing. Simply load paint onto the brush and wipe most this off onto a cloth. Then run the brush down the walls of your building but be careful not to add too much. It cannot be stressed enough that you should research prototypes and refer to photographs before attempting such replication in model form.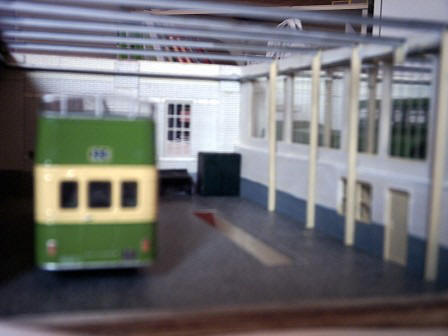 Consider also, if you are modelling modern buildings, that attention should be paid to various health and safety notices that are displayed and these can be replicated from photographs using a colour scanner/copier for use on models. In 1/76 scale, it is possible to re-create signs sufficiently without worrying about too much detail such as "hi-visibility clothing must be worn" signs where the symbol is instantly recognisable even if the associated wording cannot be read by the human eye! Other points to consider is the oil deposits that buses can leave, exhaust blackening of interior depot walls, guttering and down pipes. Should you wish to fully replicate internal steel roof supports, girders can be easily made using OO-scale rails. The photo (Edward Street workshops) illustrates this, together with the Peco LK56 inspection pit and other items built from the Peco builder pack.

The Spares Box

If you are planning to build a diorama, never throw any unused card-kit parts away. You never know when these will come in handy. For example, again, referring to the Edward Street workshops photo, take a close look at the partition wall. Whilst the wall is actually built from scrap card, the windows are made from left over roof window glazing from one of the Metcalfe kits!

---
Converting Die-casts - Rod Blackburn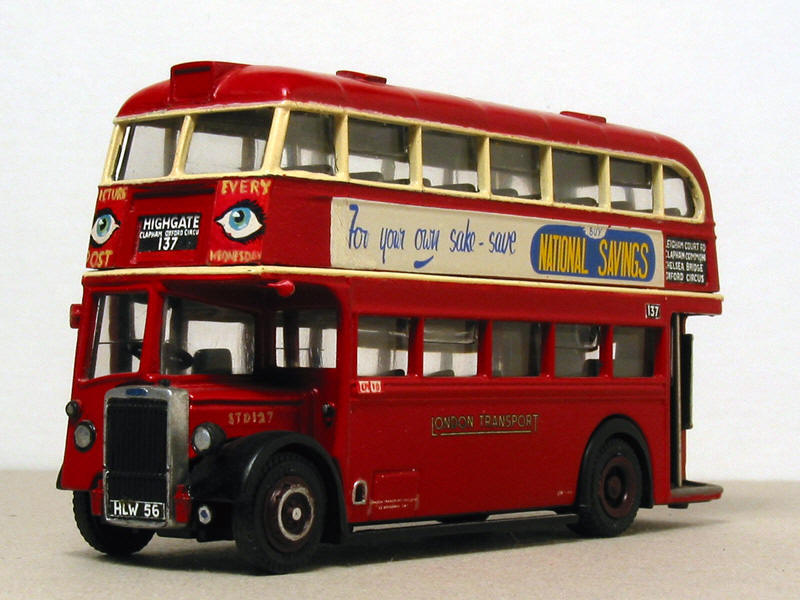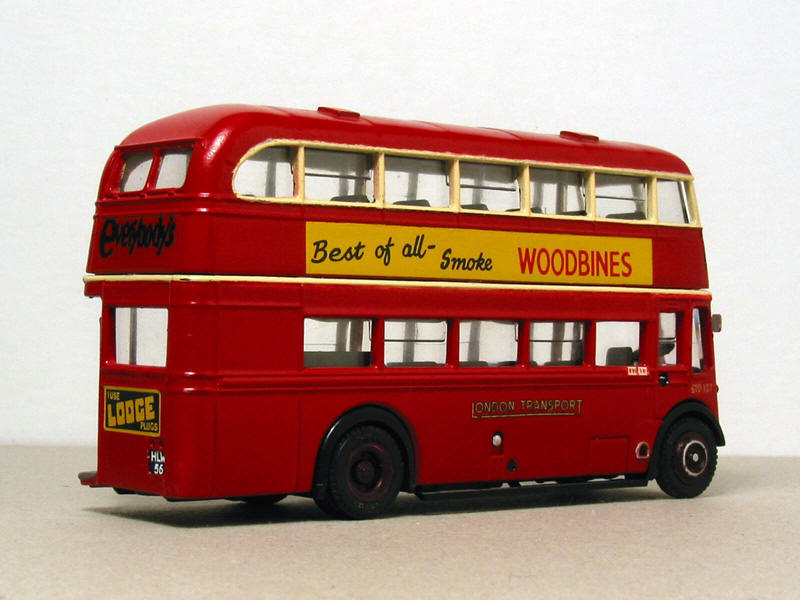 London Transport STD Class. A conversion of EFE 15901 made about three years ahead of EFE's own conversion. Some of the changes would still be relevant today. In particular, repositioning the nearside headlight and fog light; adding an offside sidelight and cutting a nearside footstep below the first passenger window. The radiator on 15901 is the earlier EFE PD radiator and in my opinion is superior to the later version, but it does benefit from being raised by about 0.5mm as here. Driver's mirrors were added. I chose to represent the destination indicator in recessed form by drilling and filing a brass sheet insert for a hole cut and filed in the body. Plastic card could be used instead, but filed brass is potentially more accurate. The rear number plate was also recessed and rear lights drilled in the body. The roof box was made of plastic card and let into a cut and filed slot in the roof. Of course, EFE's own STD would not need this work. If you think you can manage it, the raised moulding below the lower deck windows should be filed down. I didn't have the courage.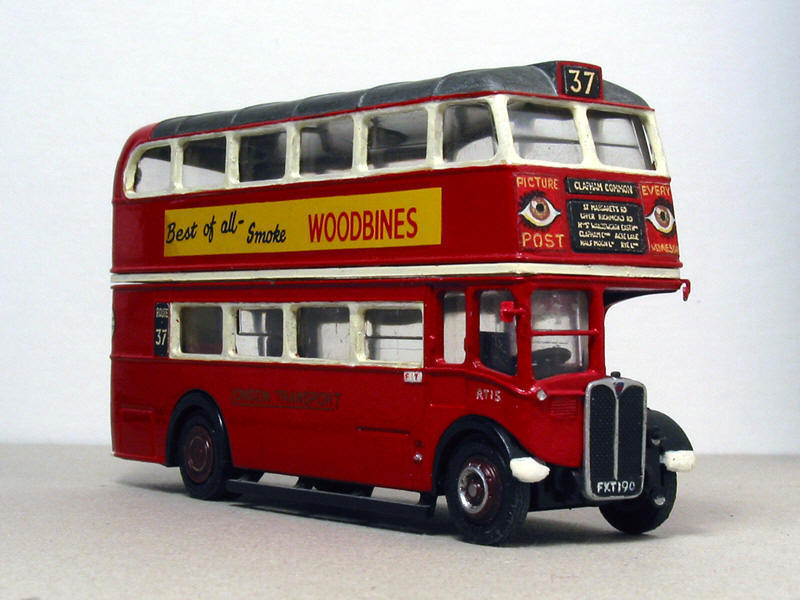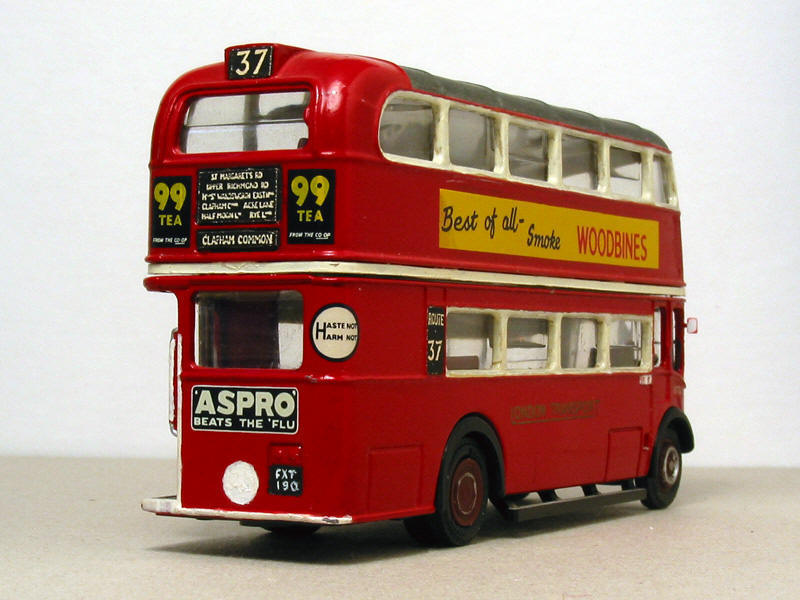 London Transport RT Class, 'pre-War' variety. A conversion of EFE 10101S made soon after introduction of the model. The most obvious differences between the 'pre-War' RTs and 10101S are the roof boxes and the drooping window lines of the driver's cab. The roofboxes were made in a similar way to the STD. The driver's windows were simply filed out, but the body mouldings needed to be restored. In this case suitable fuse wire was bent and glued on with cyanoacrylate (super-glue). Similarly, five vents were made up from fuse wire and glued to the front of the cab. The offside headlight was removed and its locating hole filled with plastic card. Another characteristic of the 'pre-War' RTs was the tumblehome on the offside rear. This was created by cutting a slot just ahead of the curved corner of the body, gently bending the lower edge of the body inwards and then filing the corner to match. The slot was then filled with putty. The front dome is a weakness of the EFE RT casting. In this case the outer window pillars were cut at the top and bent slightly inwards. The roof was then filed to improve its shape, the body mouldings were once again replaced with fuse wire and the pillar gaps filled. Finally, driver's mirrors were added.

---
Dioramas: Building a 3-dimensional display for your models - Siggy de Reuther

What is a diorama?

Dioramas are a way to display your model buses in a scenic setting that can depict a natural setting in miniature. The display can be any size chosen by the builder, and is limited by the space available rather than a limit to imagination or creativity. Often it is also the art of illusion, suggesting a small area of something or somewhere much bigger.

What to build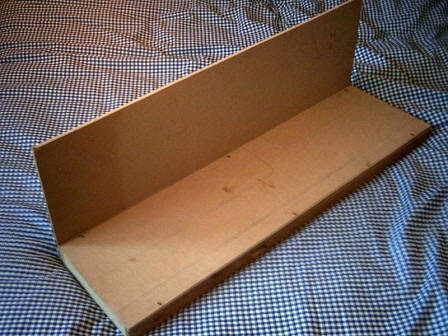 Before deciding what you want to build, it is often worth carefully considering where you are going to display your diorama and whether you want it to be portable. It could be built into a bookshelf, as a centre-piece to a room or, indeed, fill a spare room. What is important is to choose something that your wife, partner or fellow inhabitants will not object to! If you have the luxury of an entire spare room, there is yet another consideration - that is the size! It is no good building something that is 7ft x 7ft only to find that you cannot reach any part of the diorama with your hands. For example you may want to change the model buses you are displaying so location and size are the watchwords!

A Firm Foundation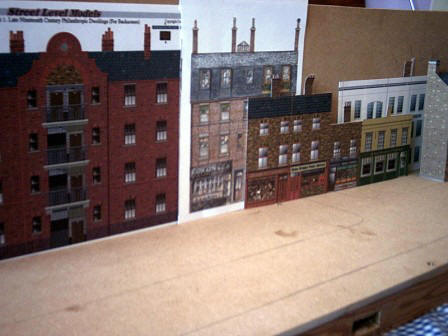 Once you have decided on how big the diorama will be, the next step is decide what material to use. This can be anything from a large pizza-box, suitably reinforced with scrap card, to a purpose-built board or even a paste table. The important point to remember here is that the base of your diorama should be level unless you can devise a means to secure your model buses. Such a foundation should be rigid, but consider if you want it to be portable: think about the practicalities of moving it through doorways, the ease of loading into a car and the weight of the finished product.

The next step is to decide what you wish to portray. This could be a bus depot, bus station, urban road scene, countryside, etc, and the era you wish to portray. This can range from a prototypical setting, an impression of a particular location, or be pure fiction. The choice is yours. I would recommend a plausible setting to avoid saturation with too many model buses! This may involve some research through photographs and books, dependent on what you are building.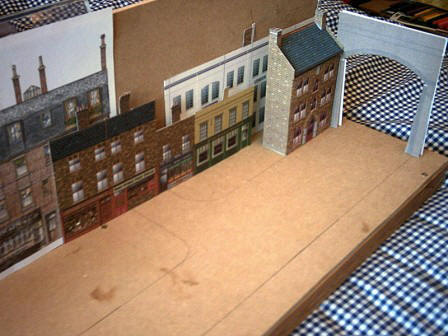 The London Road - a diorama in the making

For the purpose of illustrating the creation and building of a diorama, I have included a number of progress-photographs. As a working title I have called this London Road. The base is a simple rectangular structure built from 2"x1" timber, the "ground" area approximately 74cm long x 21cm deep (see picture 1). To create the surface 6mm thick MDF board is added whilst a solid back from MDF (for the back-scene) has a visible 21cm in height. It is important to ensure that the maximum height is suitably higher than the tallest structure to be added later. Sufficient height must be accommodated for vulnerable items such as chimneys on any buildings to be built. The wood frame and MDF has been screwed and glued with a proprietary wood glue.

Once the board has been built, it is time to decide on what to add to the back-scene (see picture 2). If you are fairly artistic then a watercolour painting could be used. If not, there are a range of printed back-scenes that can be purchased that range from artwork to photo-real, price-wise from £1 to £15. The photo shows just a fraction of the many available back-scene buildings that are available. Always work from the far-distance, firstly adding or painting the sky, followed by the more distant scenery. Remember that far-distant features are more subtle and faded, the nearer foreground will have stronger, more detailed colours and features to create the illusion of depth.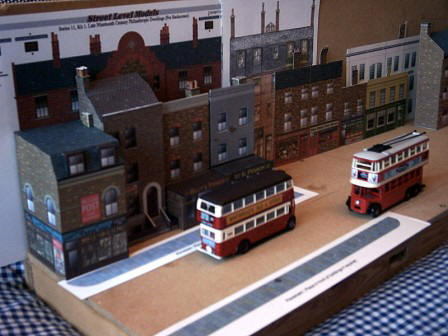 Next is to try out various buildings/structures until you reach something you are happy with (see pictures 3 and 4). It is worth adding a few buses and working out the road widths. On the photos you will see a few pencil lines as a guide to pavements on London Road.

Further reading and research: It is worth obtaining a copy of a model railway magazine such as Hornby Magazine, Railway Modeller, etc, as much if not most of the diorama ideas are common to the model railway hobby. There are many advertisers of suitable scale street-furniture, trees, buildings, etc, contained in such magazines. You may well find some of the Accessories links available on this web site helpful Additionally a visit to a local model railway stockist will provide a wealth of materials suitable for the needs of the diorama builder, especially in 4mm or 1/76 scale.

Mixing and matching

Using readily obtainable products from a well-stocked model railway shop should provide you with sufficient card kits, printed back-scenes and other items of street furniture to make a realistic setting.
In Picture 5, the background scene is not simply one but several back-scenes overlaid to create my desired perspective of distance. A sky sheet with clouds comes from the Peco range as do the nearer buildings on the back-scene. Between these are parts from the Townscene range. Similarly, the card kits are a mixture of Superquick and Metcalfe, some of which have been further modified or enhanced with the addition of plastic guttering and downpipes. The road surface is Metcalfe tarmac sheets, to which Langney models brass-etch drains and manhole covers have been added as well as white road lines by Busch.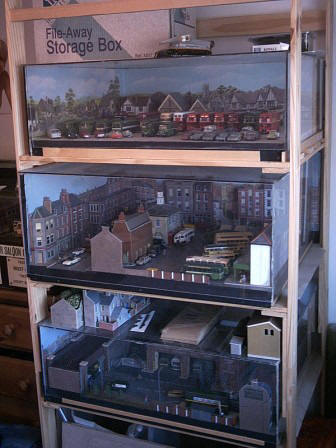 Picture 6 shows more life with the addition of vehicles, street lights, traffic lights, and road signs. Again a mix of manufacturers' products can be seen. Research is the key so as not to add vehicles or road signs from differing eras.

Picture 7 adds items such as a telephone box, post box, zebra crossing beacons and most importantly, people! Unlike the vehicles and buildings, the people are not in fact 1/76 scale but of European origin in 1/87 scale but the range is vastly superior to what is on offer in 1/76 and (in my opinion) does not look too small against the vehicles.

Storage solution

I have been asked several times how big some of the dioramas actually are. Hopefully the art of illusion has been successful but Picture 8 gives the game away! Taking up only one floor area, I actually have three different dioramas on display in various stages of completion, each measuring only 3ft x 2ft.

The frame is simply two slated pine bookshelf units, available from most DIY stores in flat packs. These were modified to add greater depth and joined to give the necessary height to accommodate three dioramas. Each diorama can be exchanged between shelves.

The Perspex dust covers will be described later.

---
Dioramas: Planning a Bus Depot Diorama - Siggy de Reuther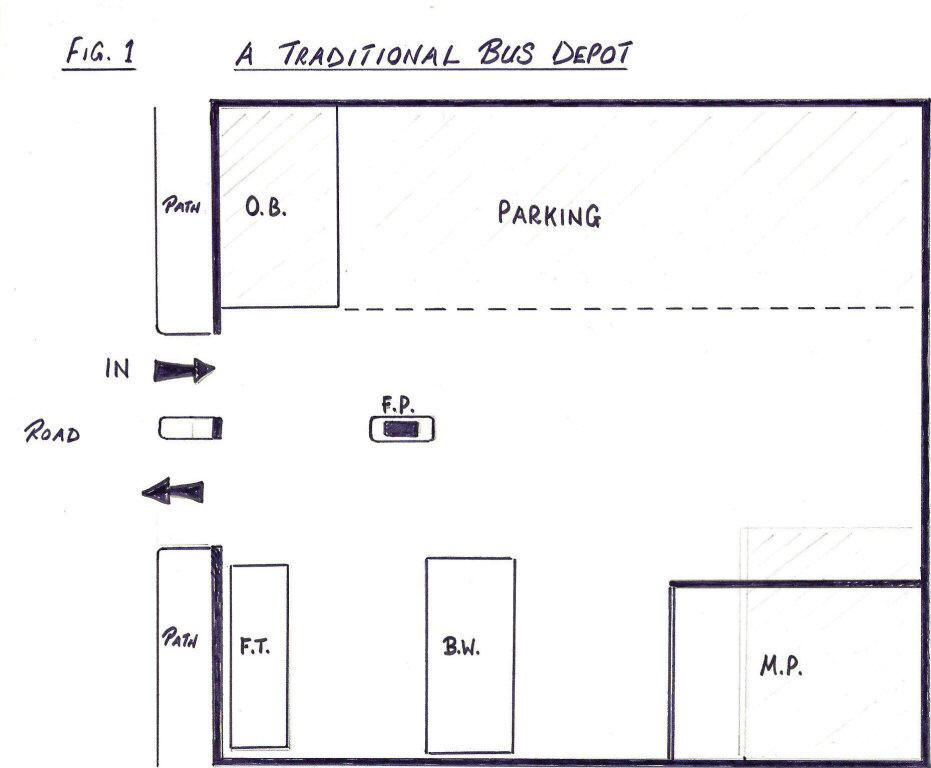 Fig. 1 is based on the traditional bus depot that would have been built for a large operator or municipal. Often the building would have been a brick-built structure built during the Victorian age, sometimes originally as a tram depot. Often the design of the building would have included large arched windows and a symmetrical design. Possibly a town crest would have been included. The plan shows a single entrance and exit separated by a pillar. The office block (OB) is built as an internal structure and very much as part of the building. Perhaps the outside wall would have included a grand public entrance. Parking would have been in regimental lines and often there can been seen a logical layout to the refuelling as buses returned to the depot at night. The fuel pump (marked FP) has been positioned centrally to enable such to take place. The fuel tank (FT) would have fed the pump via overhead pipes built into the roof framework. Often the bus washing facilities would have been a labour-intensive affair, often done by hand and so the bus wash area is very much an internal part of the depot. The maintenance pits would have accounted for a large area and traditionally bus companies did much of their own work. A paintshop and stores could also be included. The drawing shows the depot building in its entirety but perhaps one of the side walls could be left off for greater display of the model buses.

The key to building a successful and realistic model is to understand that most depots emerged from the days of either horse-drawn buses or else as a tramshed and evolution is the key to positioning the various depot features and infrastructure. In many cases the depots would have been situated close to town centres where space would have been a premium, especially as buses came to be permitted to greater and greater lengths. Another point to remember is that window frames, doors and gutters/downpipes of the buildings often reflected the livery of the buses.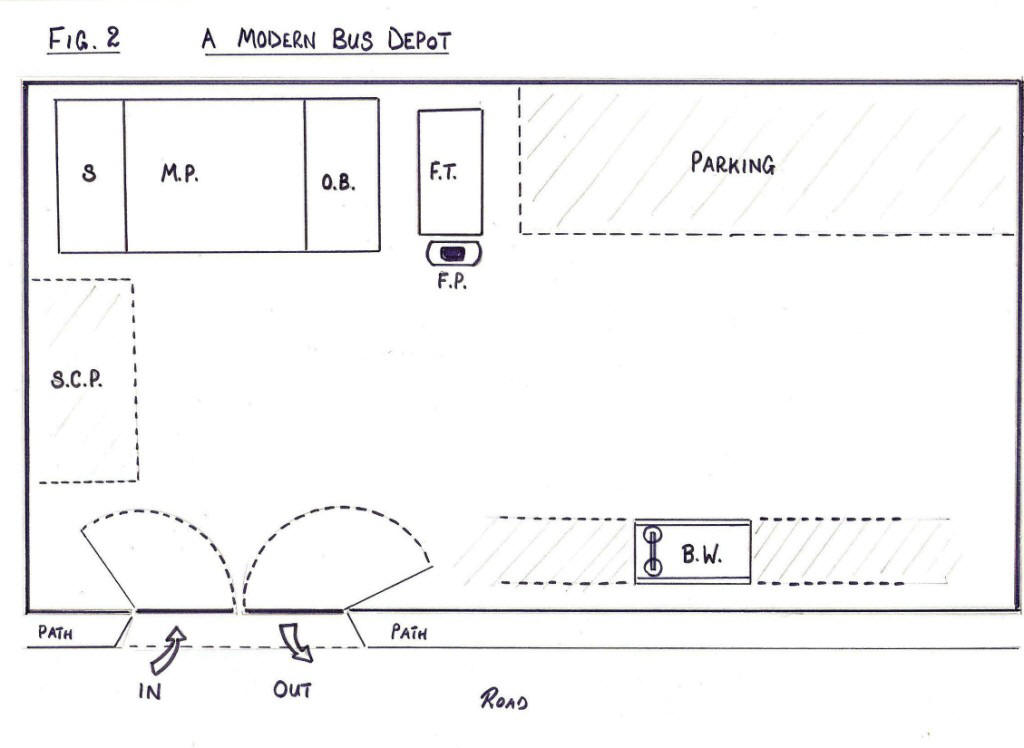 By contrast, Fig. 2 represents a modern day yard. Like the fashion for open plan in houses, the same can be said of today's bus depots. This plan represents the new yard often built on an industrial site, far removed from the town centres. Gone is the brick-built Victorian building but in many ways the modern open yards and much better as a basis for display of model buses. The boundary of the premises is no longer a brick built affair but security or chain-link fencing with metal gates replacing large heavy wooden garage doors. The only building is the workshop and stores and offices, often a corrugated steel kit-like structure with few windows, accommodating only two or three buses for servicing rather than major overhaul as in days of old. Like the bus parking, even the fuel tank (FT) fuel pump (FP) and bus wash (BW) are condemned to a life in all weathers. The bus wash is now no longer a labour intensive business but an automated machine often set in rails and very much a "drive-through" operation. However the biggest change has to be the inclusion of a staff car park (SCP) reflecting the changes of our society and how so many undertake there journeys to work. Emphasis is now on health and safety rather than attractive building design and so an abundance of warning signs should be included. For a really up-to-date premises, perhaps a bus-shelter like structure could be included in a remote corner for the smokers amongst the staff!

Both the drawings are very, very loosely based on actual places, namely Colchester and Dagenham and as such the drawings only show single entrance/exits for the buses whereas often there may be separate entrances/exits at both ends of the premises. There are no hard and fast rules to a depot plan except in the logic of positioning of structures but it is certainly worth researching this through photographs or visiting real locations. Whilst the latter is desirable especially if you intend to model an actual location, please remember these are private property and permission must be sought before entering such places.

---
Modelling tools: a beginners guide - Donald Grant
Exactly what tools are needed by modellers is dictated by the type of modelling that is to be undertaken, so my intention here is to suggest a group of basic requirements for those who are going to be building layouts or dioramas as well as for those building kits and modifying die-casts. It's really surprising what you actually have lying around the home that can be used in modelling. There is something useful to be found in nearly every room in the house, but the two most common places are the kitchen and the bathroom. So here are a few of the things you'll find around the house that will come in useful. Cotton buds, darning needles, dressmaker's pins, cocktail sticks, cooks matches and Blu Tack. Some essential sundry items that aren't really tools but are handy to have are empty foil dishes from Chinese take-away meals, nail varnish remover, Duraglit or Brasso cotton wadding and empty Ferrero Rocher boxes (great for keeping the various parts of dissembled models from going astray!). The foil dishes are used as containers for using Nitromors or a similar paint stripper which must never be used in plastic containers as it will melt them. Models to be paint-stripped are placed in the foil "bath".

Moving on to hand tools, the list is almost endless and if you are not careful can be expensive. My advice is to root around in 'pound shops' as they often have perfectly good tools selling very cheaply. I have found in practice over the years that you lose (or loan and don't get back!) far more tools than you ever break so keeping costs down is a bonus. Anyway here we go with a few essentials:

a set of needle files, craft knives, jeweller's screwdrivers, steel rule, steel scale rule, junior hacksaw, scissors (large and small) and a razor saw. Another handy thing to have is a dental hand-scaler, it can be used for all sorts of things. They can be bought in major supermarkets and usually come in a set with a dental mirror (these have their uses too!). However if you are on good terms with your dentist you could always ask him/her if he/she has any old hand instruments that are surplus to requirements, again there are many uses they can be put to. Whilst we are in the dental department in the supermarket it's an idea to pick up a pack of cheap toothbrushes as well; again, a handy addition to the toolkit.

The final item in the arsenal is glue. Personally, I keep three types in my kit. Thick superglue, polystyrene cement and PVA glue. Between the three they will cover every sticking job you will encounter.

That just about covers it. With the items I've mentioned you should be able to get started with your modelling. As you progress and gain experience you'll come up with all manner of odd things that you will add to your toolbox. There will be some items you might need that will costs a good few pounds like a hobbyists drill (Dremel or similar) but my advice is to keep your eyes open as you go around the shops. Tools that can be used by modellers can be found in the most unlikely places and always watch out for special offers from discount supermarkets. Aldi and Lidl both offer an email newsletter service so can you find out about special offers in advance. There are of course plenty of sources online for buying specialist modelling tools, but always try to get to major model shows as there are usually stalls selling tools at these events. Once you get to the stage of finding you are using something to do a job it was never intended for, and have developed a tendency to never throw anything away (well, it might come in handy someday!), then you'll know you've become a fully fledged modeller.

---
Removing Decals - Donald Grant

Most decals on "off the shelf" model buses can be removed relatively easily and there are several methods that can be used. Here's my own particular favourite. Nail varnish remover will dissolve decals and if done carefully will leave the paintwork undamaged. It can be done without dissembling the model with relative ease.

Quite simply dip a cotton bud in the liquid and then start to rub away the decal using a circular motion pushing down firmly (but not too hard) on the model. Don't worry about using too much liquid, make sure the bud is well soaked. When the decal begins to dissolve change over to the clean end of the bud again making sure it is well soaked in the liquid. It is important to change over to a clean cotton bud at regular intervals always ensuring that the cotton bud has plenty fluid on it otherwise the decal will begin to harden again and can be extremely difficult to shift.

There is sometimes a dulling of the paintwork when a decal is removed but is generally not a problem as it's usually hidden by the new decal you are going to apply and by the coat of varnish applied to "fix" the new decal to the model. I always advise trying it out on an old model first time around because if you make a mess of it then there's no real harm done but you will have gained a little valuable experience and will still have a model you can use to repaint into a new livery.

---
Detailing - Rod Blackburn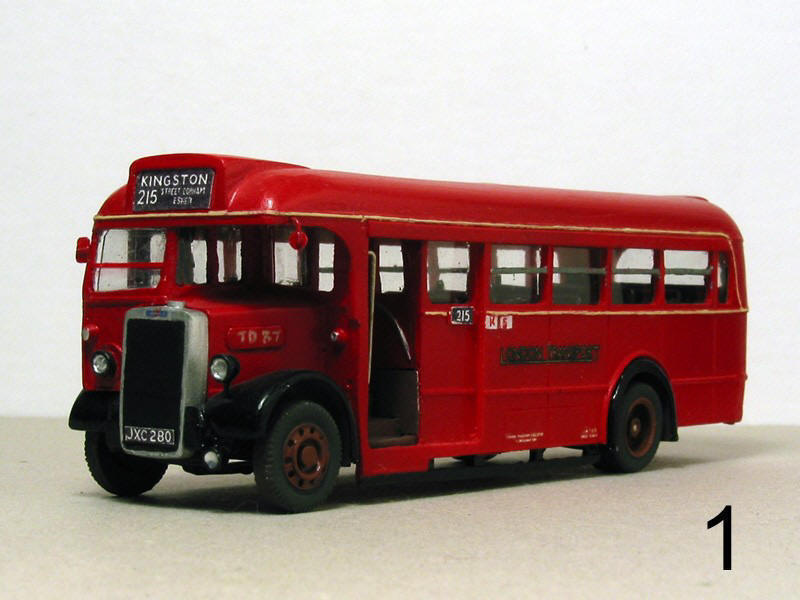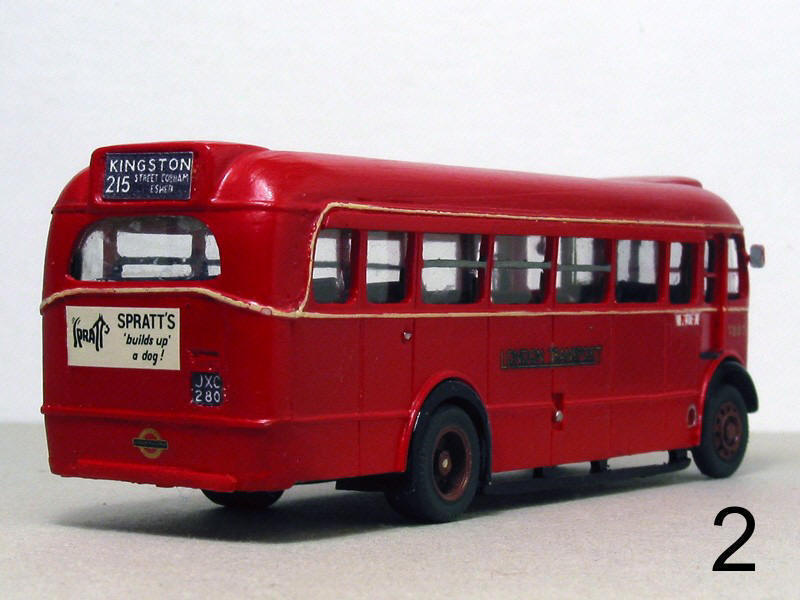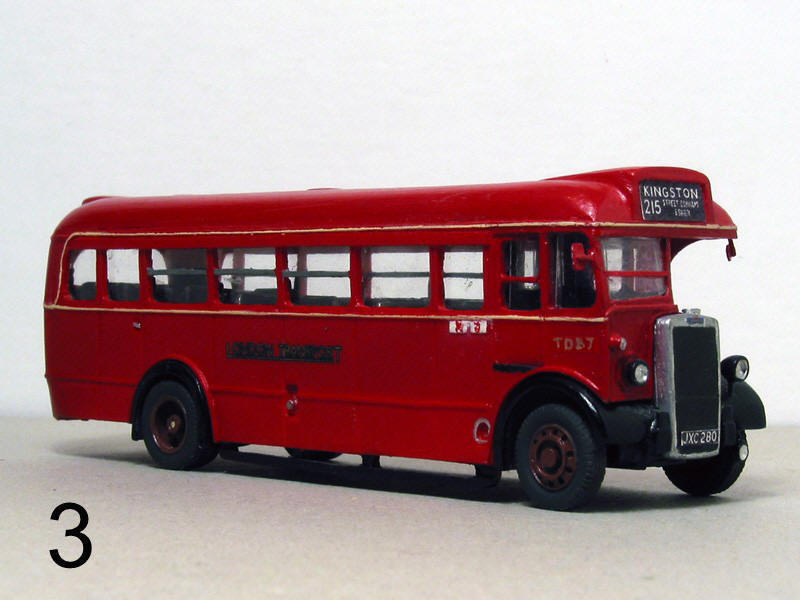 Pictures 1 to 3 - Little Bus Company kit of London Transport's TD Class. An early LBC kit due for re-issue and a new master, this kit was built in about 1998. Rain shields were modified and the rather flat roof was given more curve. Driver's mirrors were added. Blinds and registration hand painted four times model size and reduced in a photocopier (no inkjet printing then). Picture 1 shows modifications to headlights, radiator grille and dumb irons. Picture 2 shows the unusual offset rear advertisement. Picture 3 is another view of the front end modifications.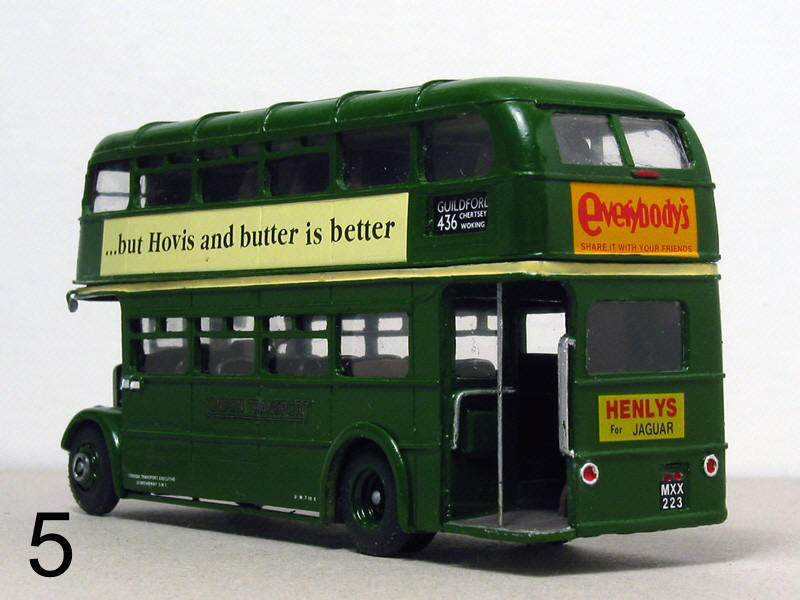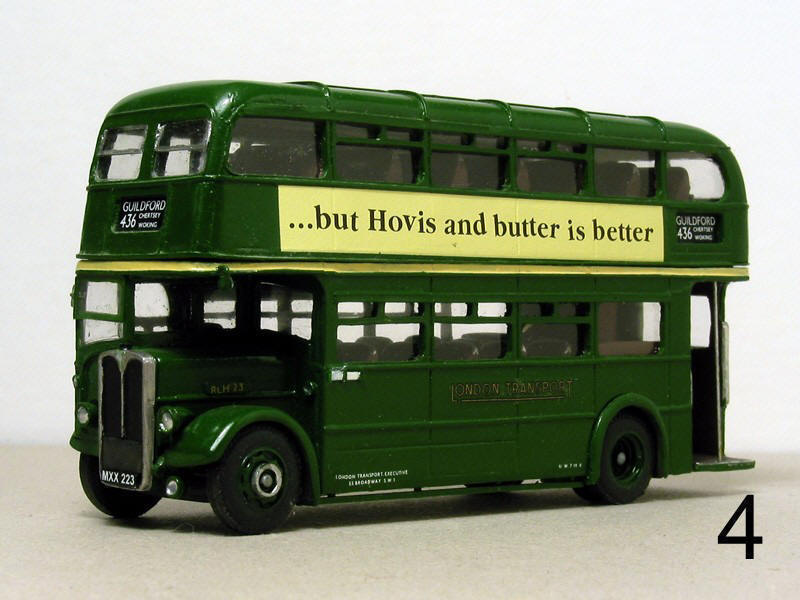 Pictures 4 and 5 - Little Bus Company kit of London Transport's RLH Class. Built in 2001, new headlights and a fog light were made and driver's mirror's added. The upper deck emergency window centre pillar was corrected. Picture 4 shows the front end modifications, including a bulge in the bonnet (behind the headlight). Picture 5 shows the revised window.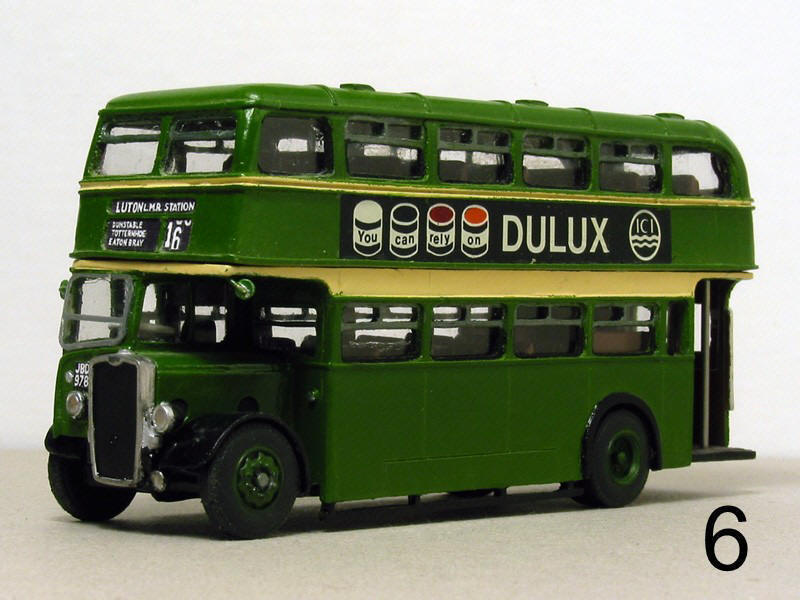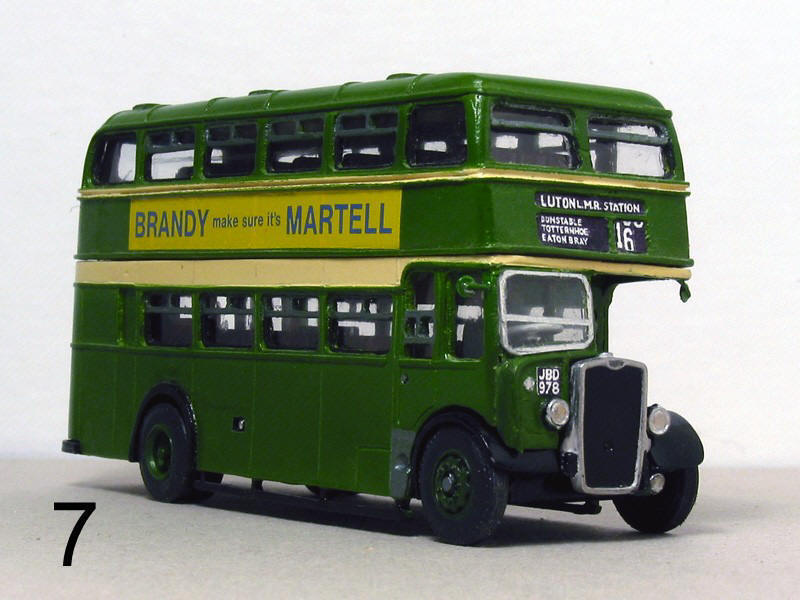 Pictures 6 and 7 - Little Bus Company kit of a United Counties Bristol KSW. Built in 1999, there was some modification to the front of the cab to improve the fit with the wing. Indicator recesses were cut in the front and rear and additional small windows were cut out on the lower deck. Idleness has prevented the acquisition of appropriate fleet name transfers. Driver's mirrors added. Blinds and registration made as for the TD, above.

---
Dismantling the OOC Optare Solo - Donald Grant
Using a Stanley knife insert the blade between the roof and rear section and lever it up enough to create a gap big enough to slip a six inch steel rule into. The rule only needs to go in a short distance. I used a scale conversion steel rule which is very thin and quite narrow. Use the rule to lever the roof upwards away from the back. You could probably use the Stanley knife to lever up the roof but if you wish to retain all your fingers and the full eight pints of blood I wouldn't risk it in case the knife were to slip. You could give yourself a very nasty injury indeed.

I found that after very little pressure the roof shot off and the door fell out! The glazing can then be removed but do it carefully lifting it from the back first. You'll find when you get the glazing unit out that the windscreen wipers are still in place but they should be easy enough to push out, from behind. The seating unit will also just lift out when the glazing has been removed and that's it. Apart from removing the wheels and axles in the usual way the job is done.

---
These tips I have learnt whilst assembling white metal and resin models but you can equally apply them to a die cast model.
A good quality paintbrush is essential in modelling, the sable hair type from your local art or craft shop, although more expensive, will give a nice smooth and even finish.
Aerosols - I have on occasions successfully sprayed my models with aerosols from a car accessory shop when I can get a match. Be warned though; do not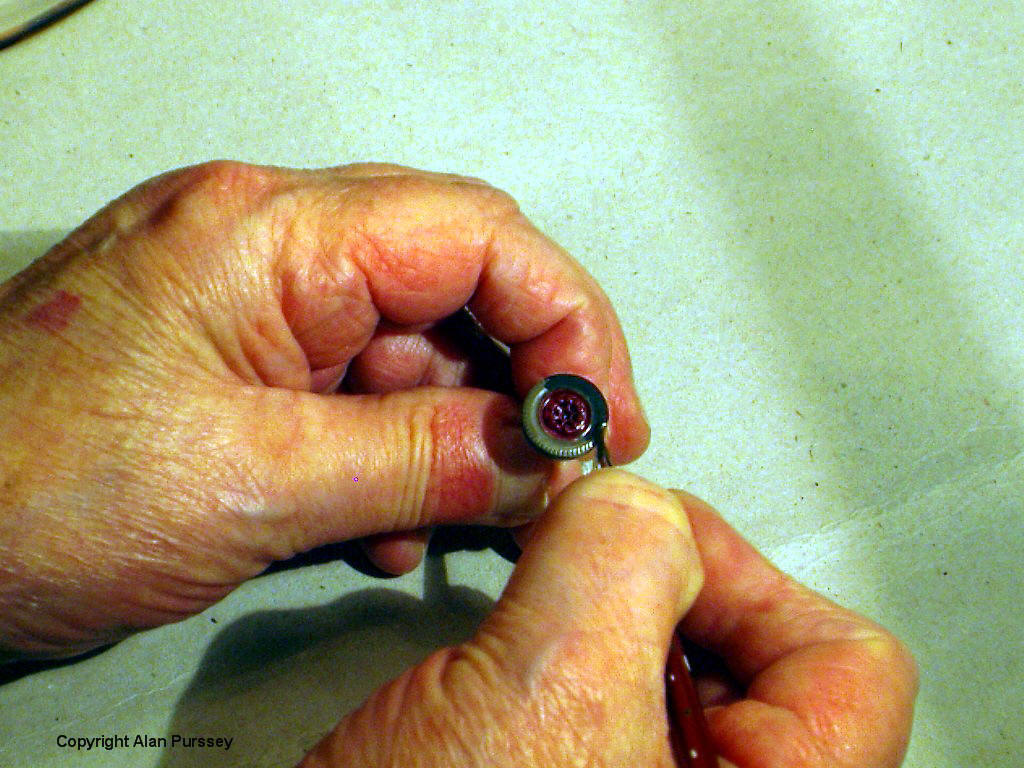 paint cellulose-based paints on top of oil-based paints, although the reverse is possible: and do not mix cellulose paint with acrylic. If using an aerosol can, warm up the model with a hairdryer as the gas in the aerosol is cold and cools the model resulting in the paint drying to a matt finish. Do follow the manufactures instruction on the can.
Several thin coats are better then one thick coat and this applies whether using a brush or a spray. Where I can I prefer matt paint; it covers more evenly and does not obscure small details, and after applying transfers, can be varnished. Do experiment, as the colour will change after applying the varnish. Before glazing, paint the edges of the windows in matt black to give a slimmer impression to the widow bars.
Wheels - after cleaning up, whether they are cast metal or rubber, place them on the wire axels provided in the kit, make sure they are square, then, holding the wire between your thumb and fore finger, load a fine brush with paint and as you place the brush to the wheel gently twist the wheel into the brush for a clean straight line between the tyre and the wheel hub.
White-walled tyres - in the early thirties London General white-walled the sides of the tyres on their buses. To replicate this on some of my models I have used white Indian ink: it looks more realistic than matt white paint.
Headlights, sidelights, door handles, and rear stop lights I treat with my trusty fine cocktail stick, dip the stick gently into the paint and supply a small drop to the object. With a little practice it becomes easy.
When painting a silver roof, I have found that the proprietary silver paint varies and can look rather heavy and patchy on a small-scale model. If the model is resin with the roof part of the body then you will need to use masking tape around the roofline. Prime with acrylic spray: it must be acrylic otherwise it will react. Try an Autoglym wheel silver aerosol - it covers well, and has a very fine spray, and it gives a professional finish with a slight weathered look without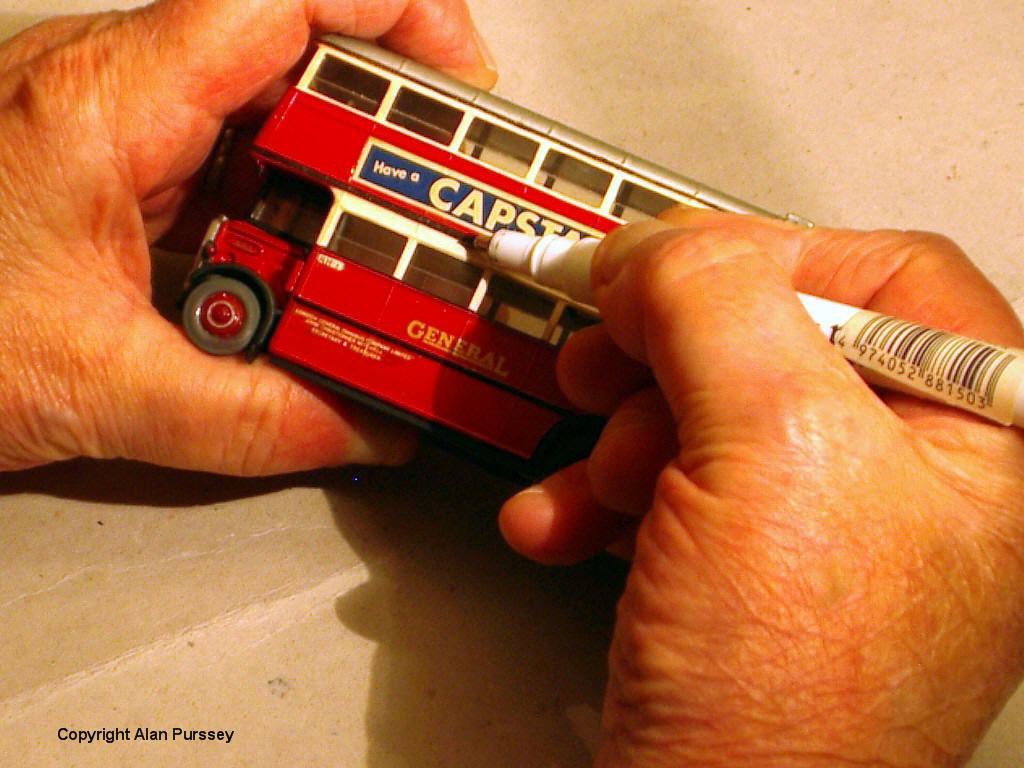 obscuring the fine detail.
Fine lining - another concern to the modeller is the lining found on early buses and coaches, usually to cover panel joints, or rain strips. I have successfully used calligraphy pens from the art shop, which are waterproof and come in various colours I use the red and black for my London fleet, tip sizes are 0.5mm, 1mm, and 2mm. If you make a mistake, it can easily be rubbed off before it dries. Trimline is made from ultra thin, self-coloured hi-tech film, it is permanently adhesive when applied to a clean surface and rubbed down. It is resistant to peeling and creeping. It can readably deform around complex curves and corners without lifting or shrinking. Each pack comes in a 2½ metre length and in eight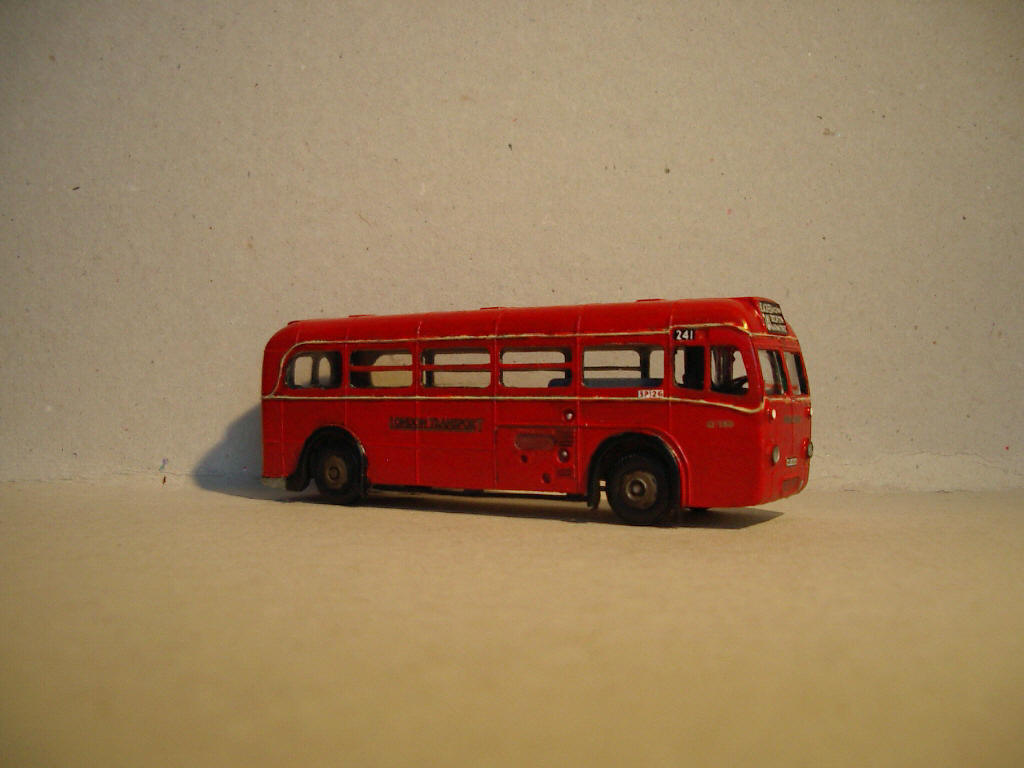 different widths: 0.5mm, 0.8mm,1.3mm, 2.1mm, 3.3mm, 5mm, 7mm and 10mm, and is available in red, green, white and black. Most model shops stock this item.
Weathering for engine louvers and grills - thin down some matt black paint, load the brush, then brush off the surplus onto a piece of card, then gently stroke across the louvers and wipe with a tissue, the resulting shadow highlights the louvers. The same can be applied under fuel caps to replicate oil spills down the panels.
Weathering bodywork- my wife came up with the idea of using some of her eye make-up shades to brush lightly along the sides of the model, and if your first attempt is unsuccessful it can be removed quite easily. Then apply some varnish. Do remember to ask her indoors first!!
Paint Mixing - It is essential to stir paint thoroughly: whether this applies to household or the modelling variety, the solution was to stir vigorously using cocktail sticks, small screwdriver, even paintbrushes with varying degrees of success. If like me you have kept paint for some time, have often found it has settled to the bottom of the tin.

The Badger Paint Mixer from the airbrush company is designed to fit standard modelling tins. It is approximately 7 inches long with the stem attached which slides into the body. Two AA size batteries are required to operate it. It weights under 4 ounces and fits into your hand comfortably with your thumb operating the on / off switch which is spring-loaded, leaving your other hand to steady the tin. The design is such that the degree of mixing is far superior than can be done by hand alone and much quicker.

Before operating it is essential to immerse the mixer into the paint, and, when finishing, switch off before removing.

Cleaning is a breeze, just wipe the end with a cloth or tissue to remove the surplus paint: placing the end in thinners and switching on for a few seconds will remove all traces of paint.

I have always used an old miniature whiskey bottle with thinners to clean my paintbrushes and this is ideal for that purpose replacing the lid alleviates smells and evaporation (it's also pleasant emptying the bottle in the first place!).

They retail around £12.00.

---
Transfers, waterslide, applying - Alan Purssey
Tony Asquith's Little Bus Company website includes tutorials on applying transfers to models whether they be kits or die-cast.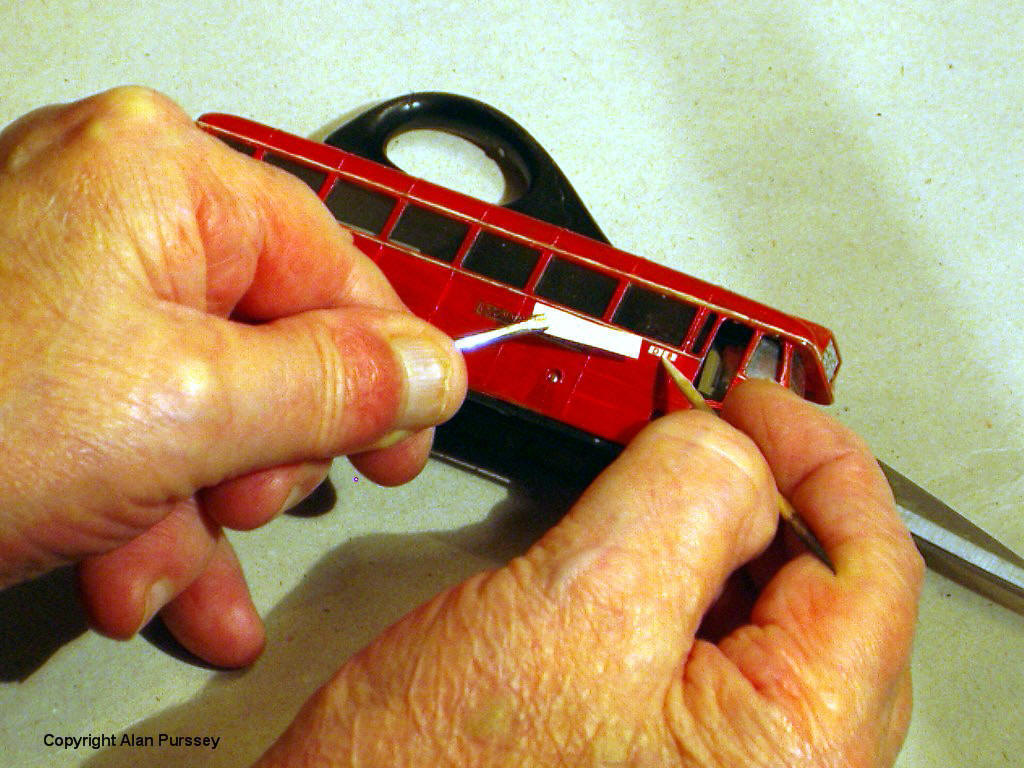 Be aware that the carrier film varies from one supplier to another, i.e. some transfers need immersion in warm water for maybe two minutes, others can be as little as a few seconds.
Some decal sets are designed to compliment many of the white metal, and resin kits currently available to enable modellers to finish a particular vehicle. Some of these sets contain very small items such as number plates, garage codes, and radiator badges. These can be tricky to apply.
Separate the items first using a steel straight edge and a sharp scalpel, and set aside.
Hold the item with a pair of eyebrow tweezers after immersion in warm water, gently tease the transfer with the end of a wooden cocktail stick (they have a fine point) onto the surface of the model; if you moisten the surface firstly it will slide more readily into position.
Finally when you are happy with the position use the end of a kitchen towel to absorb surplus water, when dry apply a varnish of your choice.

---
Transfers, waterslide, making - Sean Coyle
I have been producing my own waterslide decals since 1999 and using them for my own code 3 conversions and supplying them to friends for their models. Making your own decals isn't a hard job really but some basic computer skills and imagination are essential. I currently have an eBay shop and at present I'm supplying decals via this media. I have a range of decals at the moment and can provide decals at a reasonable cost. If you fancy having a bash at making your own decals then I have provided this special tutorial sheet exclusively to Worldwide Model Buses.

When I design decals I sometimes use a few different paint programs to create certain effects but most of the time I just use the basic paint program that comes with every home computer which is "Microsoft Paint". This program is very basic and easy to use. Getting your decals accurate requires the following attributes:

1) Font 2) Design 3) Colour 4) Scanned images 5) Size reduction 6) Choosing the correct paper to use 7) Printing 8) Glossing the decal sheet

Fonts

The key to making your decals look good starts when you first design your decals. Getting the correct font (the lettering type), or very near to the correct font, is essential if you are aiming for accuracy. Every business in the world uses different fonts, some of which are basic i.e. "Arial" and every computer has at least 50 or more fonts pre-installed and you might find you have the correct font you need for any particular fleet name. If you know which font type you require for a fleet name then you can usually download it free from the internet and install the font on your computer. If however you are not sure of the font type then don't be shy: email the company and explain to them what you are trying to replicate; they may tell you the font type and even assist you with other detailing for you to copy i.e. logos and use.

Design

As mentioned above, a good design will result in a good looking decal. If you study any particular logo for any bus company then you will immediately notice that it's made up of a series of shapes. By recreating these shapes in your paint program you can make just about any logo imaginable by layering your individual shapes on top of each other until you have the design required.

*Tip when designing your logo, don't make it too big or too small. Remember in almost every program you have the option of zooming in to your object or design. You will be reducing the size of the image later on!

Colour Matching

Colour matching is essential. What may look correct on the computer screen doesn't always turn out to be the same colour when printing your final design onto paper. In all paint programs you have the option to tweak your colours. What I usually do, if I'm trying to get a certain colour accurate to what I'm modelling, is to make my own series of small patches/swabs of a certain shade of say "Yellow" for example. I then note every colours pallet numbers for each shade I intend to match (these are the numbers shown in your custom section of your paint table). Then once I have a few different shades I print them on photo paper with my printer set to "Photo quality" and once the ink is dry I compare it to what I'm modelling for the closest possible match.

Scanned Images

Scanning images can be the easiest ways to replicate a company's logo. If you are going to go down this route you have to have a decent image to scan from. In most cases the company's logo will be far too big for your scanner and usually they are attached to a bus, so the next best thing to do is to photograph the image.

Once you have your photographs and they are transferred onto your pc then the next thing you want to do is remove what ever is in the background of the logo. This can usually be done by tracing the image with the photo software/program or, in Paint, you can erase the background very carefully by using the eraser tool. The aim in this process is to have only the logo you are trying to replicate set on a white background.

Size reduction

Once you are happy with your image you will need to reduce the size of it in order to make it fit your model. The easiest possible way to do this is to use the "select" tool in your Paint program and select the image by going as close to the edges of it as possible then once you have the entire logo selected you want to "Copy" it by right clicking your mouse and scrolling down to "copy"

Once you have the image copied you can now paste it into Microsoft Word or another equivalent program. The image will still be too big for your model so you will need to reduce the size of it. The way to do this is to right click the newly pasted object and go into 'properties' and select size. It will give you the exact dimensions of your copied object. Now you can change these sizes to a size that is more in contrast to the scale of the model. Remember that these sizes are all metric and are in cm/mm. A basic calculation is there is 10mm to 1cm and every mm is one tenth of a cm. Once you have cracked this, then re-sizing is a doodle.

Choosing the correct paper to use

Decal paper comes in either clear or white paper. The colour of paper will have to be taken into consideration to suit the logo. Remember printers cannot print White, and lighter colours soon disappear once transferred onto a model if they are printed on clear decal paper and the model paint is a dark colour.

Printing

Once you have finally laid all your decals out on your spread sheet then you are almost finished. For best results always print a test page on a plain piece of paper first as this will save your decal paper. Print your decals out on a normal setting on plain paper and then once dry cut the logos/ fleet names out and offer them to your model dry. This will give you the opportunity to see how your scaling has worked out and if it's not correct you can then go back into the 'properties' and reduce or increase the size to suit.

Finally once you are satisfied with all your artwork then you can now print off your final copy. When printing, set your printer to "Photo Quality", and then print.

Glossing the Decal

Once you have printed the decal off you will need to leave it a good while before the ink is dry to gloss it. Glossing the decal with clear Lacquer will make it water resistant and allow you to immerse it in water. Don't go heavy with the lacquer as too much lacquer will make your ink run and too little lacquer will cause the ink to run when immersed in water and the decal will break up too. For best results give it a nice even spray and ensure the entire surface of the paper is coated with lacquer.
Once lacquered allow it to dry for at least an hour and then you are ready to apply the your decal to your model.
Sean decals are to be found on eBay against the sellers name 'sean2476'.
---

---
Weathering Model Buses - Rapido Trains UK

A video posted by Rapido Trains UK showing the process of applying a realstic weathering effect to a New Look Guy Arab model.