The following press release has been issued by Northcord Models.



NORTHCORD MODEL COMPANY - PRESS RELEASE


Date : 11th April 2022.
Production update


To our valued retailers and collectors :
Herewith we itemise an update on likely release dates and status for announced models in the ukbus 6500 and ukbus 6800 range. In addition, two further future releases are announced.

Production delays due to shortage of appropriate labour in all factories in southern China are affecting many manufacturers and it is appropriate that NMC should advise you accordingly.

The continuing influence of Covid is also having a negative impact on the timescale of our release schedule because of the inability to have face-to-face meetings at the production facilities which has slowed down the decision-making process in approving the minutiae of our models.

Furthermore, the deliveries are experiencing delays worldwide. Covid, Importing, and now a war in Europe have each impacted shipping badly.

ukbus 6500 Range
ukbus 6526 – National Express West Midlands (6937 – SK68 MJE) : models are being shipped to the UK.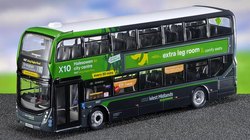 ukbus 6528 – Stagecoach London (11035 – SN18 KUB) : models are being shipped to the UK.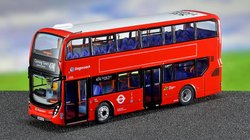 ukbus 6525 – First Glasgow (33393 – SK19 EOD) : production is scheduled for completion by late May 2022


No vehicle/model images published yet


ukbus 6529 – Stagecoach South (10945 – SN18 KNJ) The Queen's Platinum Jubilee : pre-production samples are being prepared with an anticipated production slot being available during mid-June 2022.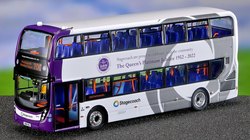 ukbus 6530 – Go North East (6341 – YX20 OKA) xlines : pre-production samples will be prepared with an anticipated production slot being available during late July 2022.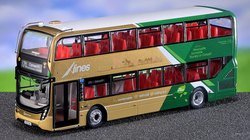 ukbus 6800 Range

The preparation of the new casting of ADL Enviro400 City on Trident 2 and BYD ADL Enviro400EV City is scheduled to be commenced in the second part of 2022. The newly developed comprehensive casting will initially include the following versions of Britain's best-selling double-decker buses :
1. 10.8 metre 1 & 2 door BYD ADL Enviro400EV City
2. 10.9 metre 1 & 2 door Enviro400 City Trident 2-chassised to follow as a continuation of the previous Enviro400 MMC Licence Agreement
Northcord Model Company will make an announcement in detail about planned liveries and model dimensions nearer to its launch date. The range will be expanded with the shorter versions of each type in due course.
Northcord Model Company (NMC)
------The World's Miniature Bus Co.